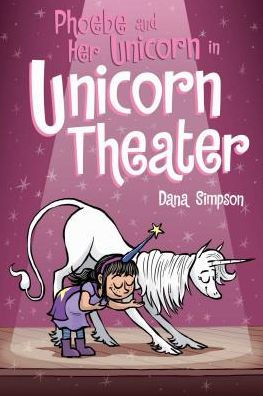 Buy This Book
---
---
"Our friendship has made me see that not everything is about me," Marigold. –Phoebe and Her Unicorn in Unicorn Theater  
Phoebe and Her Unicorn in Unicorn Theater
Phoebe and Her Unicorn #8
by Dana Simpson
AR Test, Graphic Novel
At A Glance
Interest Level

8+
Entertainment
Score
Reading Level
3.0
Summer is here, and Phoebe and Marigold are heading to drama camp. Phoebe's expecting some quality time with her best friend, but in a surprise twist, Marigold has invited her sister, Florence Unfortunate Nostrils! While the unicorn sisters head to camp in a magical rainbow pod, Phoebe is stuck riding with her parents in their boring car, wondering where it all went wrong. But at Camp Thespis, there are more daunting tasks at hand: writing, producing, and acting in an entirely original play! The second Phoebe and Her Unicorn graphic novel is a sparkling tale of sisterhood and summer fun, as well as a reminder that sometimes it takes a bit of drama to recognize true friendship.
Much of the humor revolves around Marigold, who is completely self-centered and obsessed with her own beauty. However, it is clear that Marigold cares about Phoebe. Based on the two friends' relationships, readers will learn important lessons about friendship. In the end, Phoebe and some of her drama camp friends put on a play that highlights the importance of not being self-involved and not letting a fight go unresolved.
The easy-to-follow panels have simple artwork with bright colors. The character's facial expressions will help younger readers understand the character's emotions. Each page has six or fewer sentences and some panels contain no words at all, which makes the story accessible to reluctant readers. Both the vocabulary and the plot structure are easy to understand.
Unlike some of the previous books in the series, Phoebe and Her Unicorn in Unicorn Theater tells one story throughout the book. Even though the story is the second graphic novel, for maximum enjoyment readers should read the previous books because the story refers to characters and events that happened in previous books. Phoebe and Her Unicorn in Unicorn Theater shows how the characters have matured and changed over the course of the strip.
Anyone who has ever had a fight with a friend or who has felt socially awkward will relate to Phoebe. Phoebe and Her Unicorn in Unicorn Theater will be a hit with readers who want a humorous, fun story about friendships and unicorns.
Sexual Content
Violence
Drugs and Alcohol
Language
Supernatural
Spiritual Content
---
"Our friendship has made me see that not everything is about me," Marigold. –Phoebe and Her Unicorn in Unicorn Theater