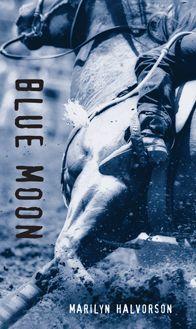 Buy This Book
---
---
"In some countries they believe if you save someone's life, you're responsible for them forever," Conway. Ambrose. –Blue Moon  
Blue Moon
by Marilyn Halvorson 
AR Test, Good for Reluctant Readers
At A Glance
Interest Level

12+
Entertainment
Score
Reading Level
4.2
Bobbie Jo didn't set out to buy a limping blue roan mare—she wanted a colt she could train to barrel race. But the horse is a fighter, just like Bobbie Jo. Now all she has to do is train the sour, old mare whose past is unknown. While she nurses the horse back to health, Bobbie Jo realizes that the horse, now called Blue Moon, may have more history than she first thought. With the help of the enigmatic Cole, she slowly turns the horse into a barrel racer.
From the very first page, Blue Moon sets up the conflict in a fast-paced story. Bobbie Jo clearly loves horses and readers will quickly be pulled into her world. Even though Bobbie Jo isn't well developed, readers will be interested in her life. When Cole begins working on her family's ranch, Bobbie Jo doesn't trust him. When the two are forced to work together, Bobbie Jo realizes that Cole's bad attitude hides his true nature. Bobbie Jo and Cole's relationship adds interest to the story and readers will enjoy watching their friendship grow.
Blue Moon is specifically written for teens who want to read short, interesting novels. The book has large font and short chapters which will appeal to reluctant readers. The easy-to-read story revolves around Bobbie Jo's horse and family which makes the story relatable to many teens.
The story is told from Bobbie Jo's point of view, which allows the reader to understand her thought process. Her relationships with her family, Cole, and her horse give the story enough depth to keep the reader turning the pages. The ending has a surprise that emphasizes doing what is right. More advanced readers may be disappointed in Blue Moon because of the simple plot and lack of character development. However, both struggling readers and horse-loving readers who want a quick read will enjoy Blue Moon.
Sexual Content
Bobbie Jo and Cole are in a truck talking. Bobbie Jo's sister taps on the window and then says, "you guys steamin' up the windows in there or what?"
Violence
 Drugs and Alcohol
Bobby Jo and her parents have a conversation about Cole's father. Afterward, Bobby Jo wonders, "Why didn't anybody ever see this Mr. McCall around? Maybe he was a hopeless drunk who just sat home drinking up the grocery money. . ."
Cole's family was in a car accident. Cole says, "One night we were comin' home for the city in a thunderstorm and a drunk driver hit our truck. We all got hurt."
Language
Supernatural
Spiritual Content
---
"In some countries they believe if you save someone's life, you're responsible for them forever," Conway. Ambrose. –Blue Moon