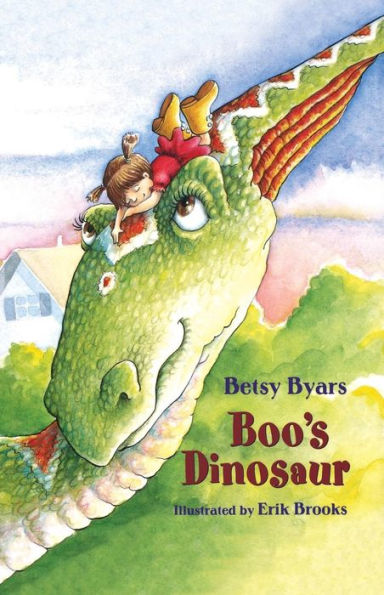 Buy This Book
---
---
"Never break a promise to a dinosaur,' the man said." –Boo's Dinosaur
Boo's Dinosaur
by Betsy Byars
AR Test
At A Glance
Interest Level

6+
Entertainment
Score
Reading Level
1.8
When Boo brings home a dinosaur that only she can see, her brother Sammy doesn't want to encourage her antics. Boo and her dinosaur are inseparable until Boo says goodbye to the dinosaur quite suddenly.
When Sammy sees how sad his sister is, he understands Boo's need for her dinosaur more than he wants to admit. So much that he almost believes it . . . almost.
Boo's Dinosaur focuses on Boo and her imaginary friend. The simple story portrays Boo's family in a positive light, and Boo's brother Sammy demonstrates patience. The cute story has a simple plot that is easy to understand. However, none of the characters or situations are memorable.
Beginning readers looking for early chapter books will find Boo's Dinosaur a good bridge between picture books and chapter books. The story has eight or fewer sentences on each page. With six short chapters and easy-to-read vocabulary, beginning readers will be able to read the book independently. Black and white illustrations appear on every page, which breaks up the text as well as shows Boo with her dinosaur. The adorable illustrations bring Boo's imagination to life and will help readers understand the plot.
Dinosaur-loving readers who are ready for more advanced chapter books and want more adventure should try The Dino Files Series by Stacy McAnulty and the Dino Rider Series by Will Dare.
Sexual Content
Violence
Drugs and Alcohol
Language
Supernatural
Spiritual Content
---
"Never break a promise to a dinosaur,' the man said." –Boo's Dinosaur