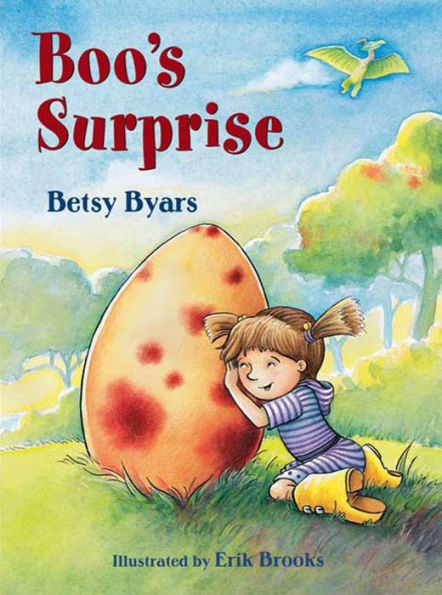 Buy This Book
---
Boo's Surprise
by Betsy Byars
AR Test
At A Glance
Interest Level

6+
Entertainment
Score
Reading Level
2.1
Boo is excited to receive a giant egg—and to find out what's inside! Her brother, Sammy, is not, but he is still willing to help her after the egg hatches into a lovable baby dinosaur. Is it all Boo's imagination or not? The youngest chapter book reader will want to find out in this wonderfully imaginative sequel to Boo's Dinosaur.
 Boo's Surprise focuses on Boo and her growing dinosaur. The simple story portrays Boo's family in a positive light, and Boo's brother Sammy demonstrates patience. When Boo raids Sammy's games, he is clearly annoyed, but he still takes the time to help Boo clean up the mess. The cute story has a simple plot that is easy to understand. However, none of the characters or situations are memorable.
Beginning readers looking for early chapter books will find Boo's Dinosaur a good bridge between picture books and chapter books. The story has eight or fewer sentences on each page. With seven short chapters and easy-to-read vocabulary, beginning readers will able to read the book independently. Black and white illustrations appear on every page, which breaks up the text as well as shows Boo with her dinosaur. Readers will enjoy seeing a dinosaur dressed up like a cowboy and jumping rope. The conclusion leaves the reader wondering if Boo's dinosaur was imaginary or real.
Although Boo's Surprise is the second book about Boo and her dinosaur, readers do not have to read the first book to appreciate Boo's Surprise. Readers who are interested in a more advanced chapter book may want to try the outrageously silly story Dinosaur Disaster by David Lubar.
Sexual Content
Violence
Drugs and Alcohol
Language
Supernatural
Spiritual Content