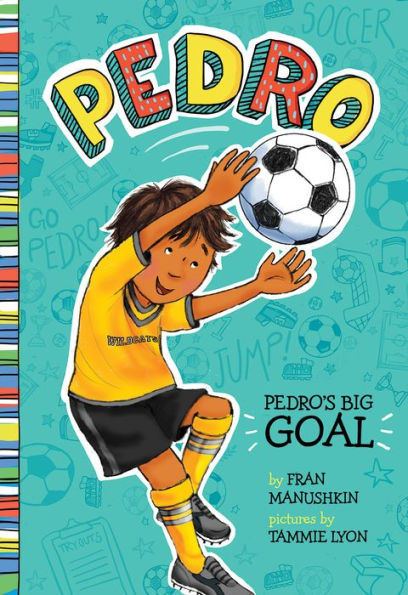 Buy This Book
---
---
"Bigger isn't always better," Katie –Pedro's Big Goal
Pedro's Big Goal
Pedro
by Fran Manushkin
AR Test, Diverse Characters
At A Glance
Interest Level

5+
Entertainment
Score
Reading Level
1.9
Coach Rush is choosing a goalie for the next big soccer match. Pedro wants the job, but he's worried he's too slow and too small. There's only one thing to do—practice! Will Pedro meet his big goal?
Pedro doesn't have the skills he needs to be a goalie, but he practices until he improves. Readers will relate to Pedro, who uses his everyday life to help him become a better goalie. For example, he blocks his brother from stepping in dog poop. The story also highlights the dangers of bragging. Even though the story shows Pedro's friends helping him improve, readers will wonder why there could only be one goalie during a game.
Independent readers will enjoy the easy-to-understand plot and the bright colorful illustrations that appear on every page. Each page contains four or fewer sentences, with simple vocabulary. Although Pedro's Big Goal is part of a series with many of the same characters, it does not need to be read in order.
At the end of the story, readers will find a glossary, questions, and writing prompts. Younger readers will giggle as they try out the sports jokes. Despite the predictable conclusion, readers will still enjoy Pedro's Big Goal as well as improve their reading skills along the way. Readers who enjoy the Pedro series should also try the Katie Woo series because it has many of the same characters and is written in the same format.
Sexual Content
Violence
Drugs and Alcohol
Language
Supernatural
Spiritual Content
---
"Bigger isn't always better," Katie –Pedro's Big Goal