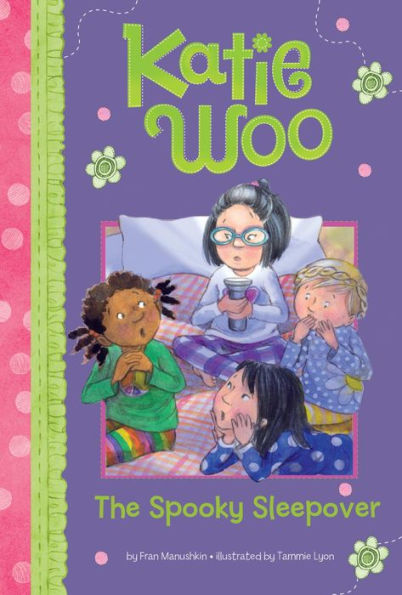 Buy This Book
---
---
"Maybe there is a monster under my bed. And he took my kimono," Katie. –Katie's Spooky Sleepover
The Spooky Sleepover
Katie Woo
by Fran Manushkin
AR Test, Diverse Characters
At A Glance
Interest Level

5+
Entertainment
Score
Reading Level
2.2
Katie Woo is having a sleepover. She and her friends are going to eat yummy food, play dress-up, and tell spooky stories. After telling spooky stories, Katie Woo worries that there is a monster under her bed. She has a scary dream, and when she wakes up, her lucky kimono is missing. Did a monster steal it? Is there a ghost in the house? What happened to Katie Woo's lucky kimono?
Younger readers will relate to Katie Woo and her sleepover fears. Even though Katie Woo and her friends have fun, Katie still worries about monsters. Independent readers will enjoy the easy-to-understand plot and the bright colorful illustrations that appear on every page. Each page contains four or fewer sentences, with simple vocabulary. Although Katie's Spooky Sleepover is part of a series with many of the same characters, it does not need to be read in order.
At the end of the story, readers will find a glossary, questions, and writing prompts. Younger readers can continue the fun with the pancake recipe at the end of the book. Readers will enjoy Katie Woo's sleepover adventure and improve their reading skills along the way. Readers who enjoy the Katie Woo series should also try the Pedro series because it has many of the same characters and is written in the same format.
Sexual Content
Violence
Drugs and Alcohol
Language
Supernatural
Spiritual Content
---
"Maybe there is a monster under my bed. And he took my kimono," Katie. –Katie's Spooky Sleepover