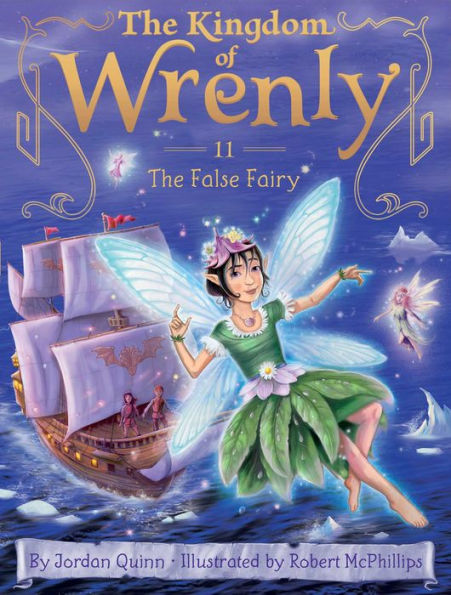 Buy This Book
Buy This Series
---
---
"This tiny creature is brave to talk to a beast of my size. She had no way to know that I am friendly. I would like to call her Brave Little Wings," Siren. –The False Fairy
The False Fairy
The Kingdom of Wrenly #11
by Jordan Quinn
AR Test
At A Glance
Interest Level

5+
Entertainment
Score
Reading Level
4.0
In the eleventh fantastic adventure of The Kingdom of Wrenly series, a spell makes all but one fairy disappear. A mysterious spell has hypnotized the fairies on the island of Primlox, and now it is up to Prince Lucas and Clara to save the fairyland. Along with the last remaining fairy named Falsk, will the two friends find the missing fairies? Or is Falsk, who is famous for telling wild stories, leading Lucas and Clara into a trap?
The False Fairy uses adventure, friendship, and a little bit of magic to form an entertaining story that teaches a positive lesson. Like many people, Falsk likes to play jokes on others and tell stories. However, Falsk has told so many untrue stories and played so many pranks on others that no one trusts her anymore. When the fairies are in trouble, Falsk journeys to Wrenly to get help. Even though the Falsk is known as the False Fairy, the prince listens to her plight and helps her free her fairy friends.
The Kingdom of Wrenly series has a lot of positive aspects. Besides having a pet dragon, the prince is curious, helpful, and truly cares for other people. Even though he is royalty, the prince's best friend Clara is the daughter of a baker. The adventurous friends work together to help Falsk find her friends. In the end, Falsk learns the danger of telling untrue stories and promises. "From now on, I will never play another trick. And I'll be truthful, honorable, and kind."
The story's illustrations are beautifully drawn in black and white and appear on almost every page. The illustrations help readers visualize the characters and events in the story. Easy-to-read vocabulary, dialogue, and simple sentence structure make The False Fairy a perfect book for beginning readers. Although The False Fairy is the eleventh installment of a series, the previous books do not need to be read in order to enjoy the story.
Sexual Content
Violence
Drugs and Alcohol
The wizard Grom goes in search of items for his potions. He wants to make, "potions for bad-dragon-breath and stain removal, cough serums, and tracking spells."
Grom's tracking potion needs, "1 body part for creature to be tracked (hair, fingernail, scale, dander, or shell), 1 cup orange blossom honey, ½ turnip, 1 handful of gooseberries, 1 swoosh of snail slime."
Grom mixes the tracking potion ingredients and then says, "Pursue-mora! Pursue-mora! Hot on the trail of an unknown beat. Track it down in a high-speed chase. Then make known it's hidden face." After the spell is cast, "sparkling light and glitter swirled from the locket. It ripped out of the cabin and up into the sea air."
Grom cast a "strong protection spell on the children and Ruskin."
Language
Supernatural
When fairies hear a song, they go into a trance. When Rainbow Frost hears the son, "a dreamy expression fell over Rainbow Frost's face. Her body began to float upward. Falsk watched in horror as Rainbow Frost and the fairies of Primlox seemed to be pulled away by a dark, misty cloud moving across the sky."
When looking for the source of the song, Falsk finds out that "the strange song was coming from a dark, misty cloud moving across the sky."
As the group follows the dark cloud, "they studied the sea and sky for more clues. Soon their imaginations began to play tricks on them. Each waved seemed to swell with monster faces, and the clouds took on beastly shapes."
Spiritual Content
---
"This tiny creature is brave to talk to a beast of my size. She had no way to know that I am friendly. I would like to call her Brave Little Wings," Siren. –The False Fairy