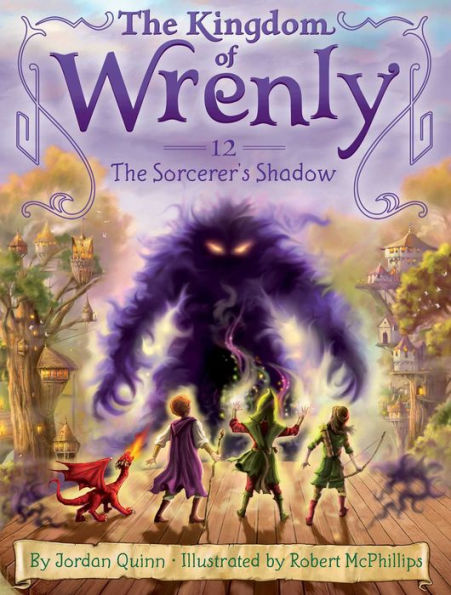 Buy This Book
Buy This Series
---
---
"The kids all think I am awkward and that bad luck follows me like a black cat," Petros. –The Sorcerer's Shadow.
The Sorcerer's Shadow
The Kingdom of Wrenly #12
by Jordan Quinn
AR Test
At A Glance
Interest Level

5+
Entertainment
Score
Reading Level
4.0
In the twelfth book from The Kingdom of Wrenly series, Prince Lucas and Clara go on an adventure in the forest realm of Trellis! All is not right in the forest realm of Trellis. Birds have left their nests, and bears have abandoned their dens, as mysterious magic threatens the natural order of the deep, dark woods. Together with a band of knights, Prince Lucas and Clara set out on an adventure that pits them against a dreaded sorcerer's shadow. There's only one problem: How can a shadow be defeated?
Unlike typical royalty, Prince Lucas interacts with everyone regardless of their station. When the prince and Clara see a kid named Petros being bullied, they jump in and help the boy. Even when others avoid Petros, the prince and Clara stick by his side and treat him kindly. The theme of the story is clear: "You must watch how you behave. No hurtful words or calling names. No hateful playground bully games."
The Sorcerer's Shadow has a darker, more frightening tone than previous books in the series. Because others have bullied Petros, his anger and hatred has transformed into a shadow beast that can turn people into wooden statues. When Petro gets angry, the beast grows and mimics Petro's feelings. For example, when Petros cries, it begins to rain. Lucas and Clara help Petros realize that he has a gift—the gift of goodness, forgiveness, understanding, and love.
Readers will be able to relate to Petro who is upset when others treat him badly. The positive message in The Sorcerer's Shadow is complicated because readers will need to understand the cause and effect of the events. Even though the message might not be clear, every reader will understand that words can be hurtful.
The story's illustrations are beautifully drawn in black and white and appear on almost every page, which will help readers visualize the story. One of the characters is a lady knight, and although she does not have a large role in the story, she is portrayed in a positive light and appears in several of the illustrations. Easy-to-read vocabulary, dialogue, and simple sentence structure make The Sorcerer's Shadow a perfect book for beginning readers. Although The Sorcerer's Shadow is the twelfth installment of a series, the previous books do not need to be read in order to enjoy the story.
Sexual Content
Violence
When Prince Lucas and Clara enter a town, "they heard a ruckus up ahead. The two kids had tripped another boy, who tumbled into a fruit cart, knocking it over. Strawberries, blueberries, and blackberries speckled the road." Prince Lucas and Clara help the boy clean up the mess.
Drugs and Alcohol
Language
When Petros goes to the playground, someone yells, "Get out of here, you clumsy oaf, before you break the whole playground."
Supernatural
No one knows why, but a "dark, ghostly cloud swirled from inside the great oak lift. The vapor formed into a showdown that roared an eerie warning." The voice tells the town people that "the knights who tried to do some good have now been turned to bark and wood."
The prince learns that Petros has magical powers that he cannot control. Petros didn't know he had magical powers "until other kids began to make fun of me. The more upset I got, the more bad things would happen. . .When I get angry, the evil side of my powers begin to grow. Now my evil side has grown into a powerful, menacing shadow."
Prince Lucas and Clara try to help Petro focus on his good powers. "Then the shadow reached dark tendrils out that touched Lucas and Clara. Instantly the two of them were rooted in place. Lucas looked down. Their feet had turned to wood."
Lucas learned that he needed to "tame the evil magic with positive feelings!"
Spiritual Content
---
"The kids all think I am awkward and that bad luck follows me like a black cat," Petros. –The Sorcerer's Shadow.