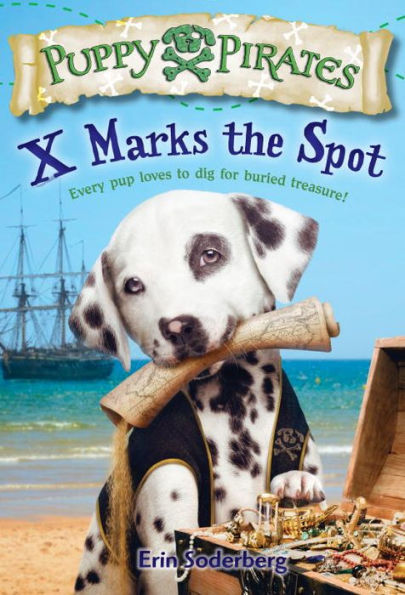 Buy This Book
Buy This Series
---
---
"Sure I found plenty of riches in me travels. But in all me years as a pirate, I learned that the best treasure any pirate can hope for is the promise of more adventure," Growlin' Grace. –X Marks the Spot  
X Marks the Spot
Puppy Pirates #2
by Erin Soderberg 
AR Test
At A Glance
Interest Level

6+
Entertainment
Score
Reading Level
4.2
Wally and the puppy pirates are hunting for buried treasure! Legend has it that a famous old sea captain, Growlin' Grace, hid pirate booty on Boneyard Island, and Wally and his friends have a map to find it! Land ho! Can the pups follow the trail and sniff out the treasure?
Wally, Henry, and the pups take center stage in X Marks the Spot. As they follow the treasure map, they have to use their skills to avoid booby traps. Several times, they save Captain Reb Beard and the other puppy pirates. Readers will enjoy the funny interaction between the pups and the fast-paced action as the puppies explore Boneyard Island.
Most of the pirates believe that the treasure will be gold and jewels. However, when they find Growlin' Grace's treasure, they find her map collection which is special because "they reminded her of her greatest adventures with her crew." When the pirate puppies take the treasure, the island dogs are upset others won't visit their island. So Captain Reb Beard and his crew leave treasure, which consists of things that were special to each individual puppy. Through the puppy's experiences, the reader will learn that treasure doesn't have to be gold and gems. Instead, "the best treasure any pirate can hope for is the promise of more adventure."
Readers will love following the clues to find buried treasure and seeing Wally and his friends use some creative solutions. The story doesn't use as much pirate language as the first book in the series, however, the book is still entertaining.
Even though X Marks the Spot is part of a series, the book can be read as a stand-alone. The black and white illustrations are adorably cute and will also help readers understand the story's plot. With short chapters, large text, and illustrations every 1 to 5 pages, X Marks the Spot is a great book for readers ready for chapter books. Readers who want more dog-related pirate fun should read All Paws on Deck by Jessica Young.
Sexual Content
Violence
While trying to find treasure, Captain Reb Beard and his crew get trapped. One puppy says, "When he saw a big, meaty pile of bones, he pounced. But the bones were bait for a booby trap! We all got scooped up into the net."
 Drugs and Alcohol
Language
When Captain Reb Beard finds puppies spying on him, he calls them "scurvy dogs."
Supernatural
Spiritual Content
---
"Sure I found plenty of riches in me travels. But in all me years as a pirate, I learned that the best treasure any pirate can hope for is the promise of more adventure," Growlin' Grace. –X Marks the Spot