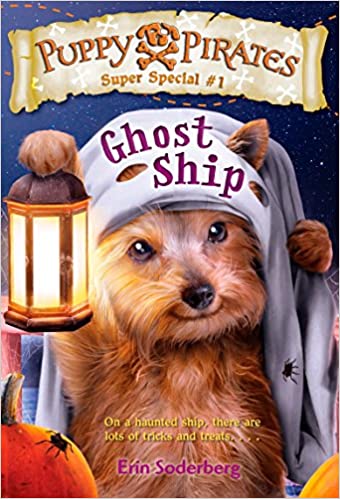 Buy This Book
---
---
"We must find little Walty. Our crew isn't complete without him and his human. If we lost them somewhere in the storm, I don't know what I'd do," Captain Red Beard

.

–Ghost Ship
Ghost Ship
Puppy Pirates Super Special #1
by Erin Soderberg
AR Test
At A Glance
Interest Level

6+
Entertainment
Score
Reading Level
3.8
The puppy pirates listen carefully as Puggly tells the story of Growlin' Grace and her crew. Growlin' Grace was determined to track down an evil sea slug. But when the pirates discovered that the slug was "bigger, stronger, and slimier than anything those pirate pups had seen before. . . Growlin' Grace's crew turned the ship around" and sailed away.   
After the scary story, Wally is pranked by a couple of pugs, who accuse him of being more puppy than pirate. How can Wally prove he's as fearless as the rest? Spending the night on an abandoned pirate ship should do the trick! But when Wally and his human friend, Henry, climb aboard, they soon discover the ship might not be so empty after all. . . 
Young readers will enjoy the spooky story that has some suspense without being too scary. However, much of the story revolves around Wally and Henry exploring the ship and wondering if ghosts are real. Instead of having an action-packed story, Ghost Ship's plot slows down and only picks up at the very end when Wally and Henry play a prank of their own. Still, readers will enjoy the pirate talk and cute word play such as pug-glorious. 
One negative aspect of the story is that Growlin' Grace's crew are called weirdos. When Wally and Henry meet two descendants of Growlin' Grace's crew, the pups call each other "Weirdos" because "that's what Growlin' Grace used to call her crew. She liked that she had a pack full of odd dogs who thought a little differently. They all had strange personalities and even stranger ideas about pirating life." While Growlin' Grace was using the term in a positive way, adults may want to take this opportunity to discuss the negative connotation of the name and if this type of name calling is appropriate.   
Ghost Ship isn't as action-packed as the other books in the series. However, young readers will still enjoy the spooky adventure. The black and white illustrations are adorably cute and will help readers understand the story's plot. With short chapters, large text, and illustrations every one to five pages, Puppy Pirates is the perfect series for readers ready for chapter books. Plus, the end of the book has four pages that show how to draw a puppy pirate and how to use a key to unlock a code. 
Ghost Ship will teach young buccaneers that the most important treasure is being with friends. And while this is a ghost story, the only ghosts that appear are puppies who are pulling pranks. Readers who love dogs should also check out All Paws On Deck by Jessica Young and  Stinky Spike the Pirate Dog by Peter Meisel; both pirate-themed books use humor to engage young readers. 
Sexual Content  
Violence  
Wally and Henry go on a ship they believe is abandoned. Then, "a white figure popped out of the shadow and flew straight at them. . . Wally growled and yipped, grabbing for the ghost with his teeth." The supposed "ghost" disappears. 
Drugs and Alcohol  
Language    
After frightening Wally, Puggle calls him a scaredy-pup.

 

When one of the characters gets frustrated, he yipped, "Graggle! Stinkbug! Plink!"

 
Supernatural 
Spiritual Content  
---
"We must find little Walty. Our crew isn't complete without him and his human. If we lost them somewhere in the storm, I don't know what I'd do," Captain Red Beard

.

–Ghost Ship