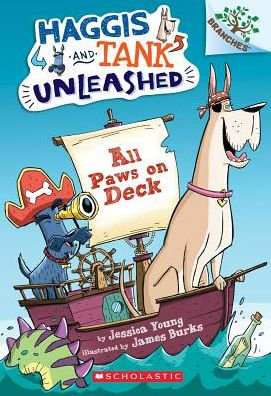 Buy This Book
Buy This Series
---
---
"We might not have found buried treasure, Bootleg Bonny. But the real treasure is right here at home," Haggis. –All Paws on Deck
All Paws on Deck
Haggis and Tank Unleashed #1
by Jessica Young
AR Test
At A Glance
Interest Level

5+
Entertainment
Score
Reading Level
3.1
In the first book of the series, Haggis and Tank set sail. Haggis and Tank go on a pirate adventure. They talk like pirates, swab the deck, and even search for buried treasure! But then, a giant sea serpent starts chasing their pirate ship. Will Haggis and Tank ever make it home?
Any child who has ever pretended to go on an adventure will relate to Haggis and Tank who use their imagination to sail away on a pirate ship. During their adventure, the two friends must come up with creative solutions to problems. Throughout the adventure, Haggis and Tank use pirate talk and cleverly weave homophones into their speech which adds humor. For example, when Haggis is trying to teach Tank how to tie knots, Tank wants to learn "forget-me-nots."
Haggis and Tank's adventure is illustrated in brightly colored panels. Much like a graphic novel, some of the pages only have quote bubbles. In order to move the story along, 1-2 sentence narration is included on some of the pages. The illustrated story is funny, imaginative, and full of surprising details. In addition, the heart-warming conclusion shows that "the real treasure is right here at home."
Younger readers will laugh as Haggis and Tank take to the sea and overcome some unexpected difficulties. All Paws on Deck is part of Scholastic's early chapter book line called Branches which is aimed at newly independent readers. With 1-3 sentences on each page, independent readers can read the story to themselves. The story ends with five questions and gives page numbers to help readers take a closer look at the text. All Paws on Deck will amuse both children and parents. Both the pirate talk and wordplay make All Paws on Deck perfect for reading aloud. Younger readers will want to join Haggis and Tank's next adventure, Howl at the Moon. Readers who enjoy adventure-loving dogs will also want to read the Safari Pug Series by Laura James.
.Sexual Content
Violence
Drugs and Alcohol
Language
Tank calls Haggis a "landlubber."
Supernatural
Spiritual Content
---
"We might not have found buried treasure, Bootleg Bonny. But the real treasure is right here at home," Haggis. –All Paws on Deck