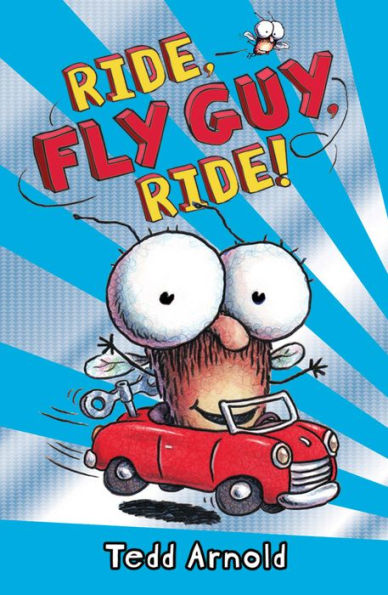 Buy This Book
Buy This Series
---
---
"Follow that train!" cried Buzz. –Ride, Fly Guy Ride
Ride, Fly Guy, Ride
Fly Guy #11
by Tedd Arnold
AR Test
At A Glance
Interest Level

4+
Entertainment
Score
Reading Level
2.0
When Buzz and his dad decide to go for a ride, Fly Guy happily goes with them. Fly Guy's adventure begins when the wind blows him out of the car's window. Fly Guy blows into a passing truck and lands in the driver's mouth. The man spits out Fly Guy, who continues on a wacky adventure. Fly Guy even ends up on a circus train, where he meets a sleepy and surprised elephant. Will Fly Guy b lost forever, or will he make it back to Buzz?
Ride, Fly Guy Ride will pull readers into the silly story, which focuses on transportation. Giggles will erupt because of the slapstick comedy and the humorous full-colored illustrations. Much of the humor comes from the illustrations that show Buzz and his father trying to save Fly Guy. Fly Guy ends up in some silly situations including landing in a man's mouth and falling onto an elephant's nose. At the end of the story, Fly Guy survives unscathed, which will delight readers.
Designed for younger readers, each page contains large illustrations that use exaggerated facial features to help readers read the characters' emotions. The story will give emerging readers confidence as they move from picture books to chapter books. Ride, Fly Guy Ride has three chapters, and most pages have only one sentence. The story's short sentences, simple vocabulary, and pattern of wording make Ride, Fly Guy Ride a good choice for younger readers.
Even though Ride, Fly Guy Ride is part of a series, the stories do not have to be read in order because the plot does not build on previous books. Ride, Fly Guy Ride is a fun story that beginning readers can read alone; it is also is a quick read for those looking for a story to read aloud.
Sexual Content
Violence
Drugs and Alcohol
Language
Supernatural
Spiritual Content
---
"Follow that train!" cried Buzz. –Ride, Fly Guy Ride