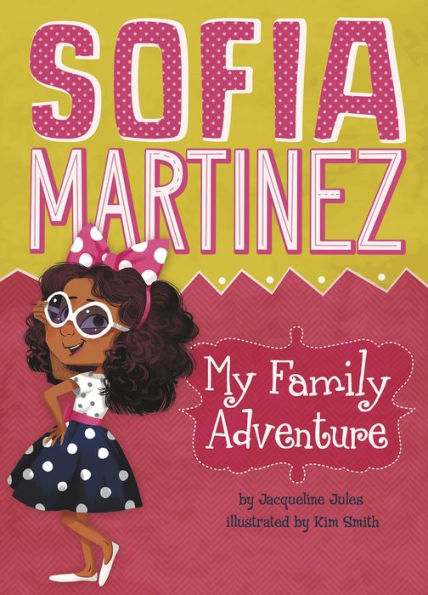 Buy This Book
Buy This Series
---
---
"There are a lot of people here. Not everyone can pay attention to you," Papá. ―My Family Adventure
My Family Adventure
Sofia Martinez
by Jacqueline Jules
Must Read, Teaches About Culture
At A Glance
Interest Level

5+
Entertainment
Score
Reading Level
2
Sofia Martinez is a seven-year-old girl who wants to be noticed. My Family Adventure contains three short stories about Sofia's daily life. In the first story, she tries to gain her family's attention through a photo swap. In story two, Sofia and her cousins want to make a surprise gift for their abuela's, or grandma's, birthday. In the third, a class pet goes missing and Sofia needs to figure out how to get the pet back into its box.
Sofia Martinez: My Family Adventure is written for beginning readers. Each story contains three easy-to-read chapters. Beginning readers will appreciate the many pictures that are scattered throughout the story and the large print. Readers will be able to relate to the topics in each story. Spanish words and phrases are printed in pink and appear throughout the text. Although many of the words are understandable because of their context, a glossary is included at the end of the book.
Sofia's story shows her cultural heritage through her stories. In each of her stories, her large family is portrayed as a positive influence. Sofia often relies on her family members to solve her problems. In one story, her father lovingly tells her, "There are a lot of people here. Not everyone can pay attention to you." The illustrations are another positive aspect of the book. The illustrations are full of color and portray Sofia and her family as warm and stylish. The character's facial expressions will help younger readers decipher the emotions of the characters.
Sexual Content
Violence
Drugs and Alcohol
Language
Supernatural
Spiritual Content
---
"There are a lot of people here. Not everyone can pay attention to you," Papá. ―My Family Adventure