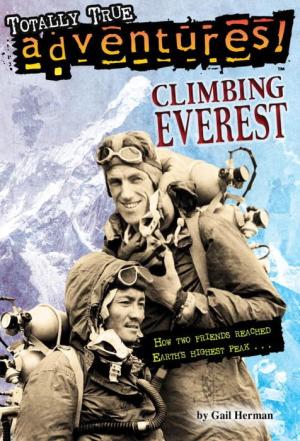 Buy This Book
---
---
Tenzing wrote that going to the summit "is a dream. A need, a fever in the blood." –Climbing Everest
Climbing Everest
Totally True Adventures
by Gail Herman
AR Test
At A Glance
Interest Level

7+
Entertainment
Score
Reading Level
4.4
The peak of Mount Everest is the highest place on Earth—and one of the deadliest. Terrible storms stop climbers in their tracks. Avalanches crush everything in their way. Brave adventurers disappear on the snowy slopes. Despite this, Edmund Hillary and Tenzing Norgay decided to climb. They come from different cultures, but their dream is the same. Can their teamwork help them make it to the roof of the world?
Everest's story begins with George Leigh Mallory, who was born in 1886. Mallory attempted to climb Everest many times and although people believe he reached the summit, he died while climbing the mountain. However, Mallory was not the last to climb. Climbing Everest describes the different people who tried to make it to the top of the world.
In order to explain why some of the explorers wanted to climb Everest, the book focuses on the main climbers. This allows readers to understand each person's motivation behind climbing Everest. Some of the words come directly from the explorers' personal letters and writings which adds interest to the story. Through the climbers' stories, readers will be awed by the climbers' dedication, grit, and ability to survive in harsh conditions.
Climbing Everest uses short chapters and easy vocabulary which makes the book accessible to reluctant readers. Large black and white illustrations appear every 3 to 7 pages and show the mountain and the mountain climbers. The end of the book includes records set at Everest, a map of the climbers' camps, and other interesting facts. While the book is easy enough for young fluent readers, the content will be interesting to older readers of all ages.
Today, more than 300 people have died attempting to reach Everest's summit. Climbing Everest chronicles the first explorers who dared to reach earth's highest peak. Their stories explain the difficulties of reaching the summit as well as the teamwork involved. Even though the book is nonfiction, readers will have a hard time putting it down. Readers who are interested in mountain climbing will also want to read Peak, the first book in the Peak Marcello Adventure Series.
Sexual Content
Violence
Mallory's body was found years after his death. He was "lying face down in the snow. His feet were pointed toward the mountain base. His arms were outstretched as if trying to stop a fall. He had a broken leg, broken ribs, and a broken shoulder."
 Drugs and Alcohol
During the 1922 expedition, the climbers brought cases of champagne so "they could celebrate their success once they reached the top."
Language
Supernatural
Spiritual Content
On their trip to Mount Everest, the climbers stopped at the Rongbuk Monastery. "Sherpas, and many other people from the region, followed the Buddhist religion. . . The paths of the monastery were lined with stones, and the stones had prayers carved into them."
When Edward North and his expedition went to the monastery, "he asked the head lama to give a special blessing to the Sherpas." The lama "held a silver prayer wheel to each man's head. By doing this, he gave the climbers a blessing."
One of the Sherpas was "a little scared" of going to the summit because "his Buddhist religion taught him that gods and demons lived in the mountains. They were sacred places, to worship and to protect." Later Tenzing "left gifts for the mountain gods—sweets, and the pencil his daughter had given him."
---
Tenzing wrote that going to the summit "is a dream. A need, a fever in the blood." –Climbing Everest