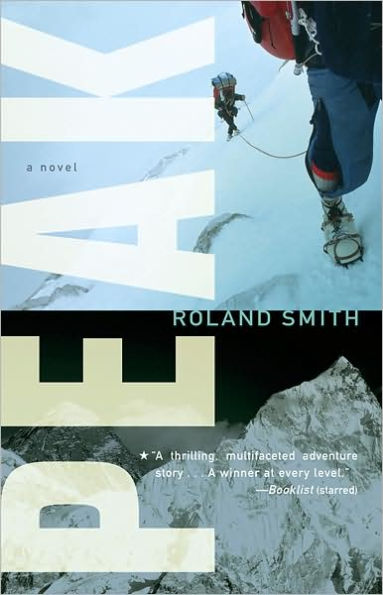 Buy This Book
---
---
"You need to forget everything else and concentrate on the climb. You have enough experience to know when it's over. And when it's over don't take another step higher. If you do, it could be over for good. Turn around. There's no shame in it. Live to climb another day. And when you come back down I hope that good and caring heart of yours thaws. It's the most important muscle you have," Teri Marcello. —Peak
Peak
Peak Marcello Adventure #1
by Roland Smith
AR Test, Diverse Characters
At A Glance
Interest Level

12+
Entertainment
Score
Reading Level
5.0
Fourteen-year-old Peak Marcello has climbing in his blood. Both of his parents have climbed some of the largest mountains in the world, and his biological father, Josh, is still a renowned mountaineer. When Peak is arrested for scaling a skyscraper in New York City, he's sent to live with Josh in Thailand rather than face time serving in a juvenile detention center.
But Josh has other plans—namely, that he's going to get Peak to summit Everest, making Peak the youngest person ever to do so. Despite Josh's sketchy, press-oriented motivations, Peak gives Everest a chance. But Everest is unforgiving even for experienced climbers. Any mistake could mean death.
Peak is an exciting mountaineering book that discusses climbing terms in ways that are easy to digest for readers unfamiliar with high-altitude climbing. For instance, Peak describes high altitude pulmonary edema (HAPE) to illustrate the sorts of dangers that climbing at high altitudes can have on the human body. Although nothing is particularly graphic in this book, it does describe seeing corpses and people suffering from HAPE.
Peak's personal journey throughout the book is commendable. Peak's main emphasis is on his family, who he loves dearly. His mother raised him, and his excellent relationship with his younger half-sisters ("the Peas") highlights his fundamentally kind and caring personality. While climbing Everest, Peak's friendship with another fourteen-year-old Tibetan boy named Sun-jo shows how much they depend on each other to make it to the summit. Their friendship is a focal point of the book because Peak grapples with his competitive nature while knowing that Sun-jo should have the honor of being the youngest person to summit. This conflict comes to a satisfying resolution, and Peak and Sun-jo's friendship remains strong.
Peak also struggles with his feelings about his biological father, Josh. Peak is wary of Josh's motivations. Their relationship, although fractured at the beginning of the story, begins to mend as Josh and Peak learn more about each other. Although their relationship is unlike Peak's closer relationship with his mother, Josh starts to have a place in Peak's life.
Peak is the first book in this series, and the next books also detail Peak's climbing adventures. Peak is a good introduction to the series because it explains climbing facts while also creating a fun and interesting story about Peak's climbing adventures. Climbing and being on top of the world are important for Peak, but love for family and friends top any mountain that he could scale. While reaching the top of Everest is temporary, family lasts a lifetime.
Sexual Content
Peak briefly recounts his parent's relationship. He says, "I was conceived in a two-man tent under the shadow of El Capitan in Yosemite National Park. At least that's when my mom thinks it happened."
Peak overhears a climber talking about Josh. The climber says, "Josh is so cute! What do you think he'd do if I snuck into his tent one night?" The person's friend responds with, "I don't think that's included in the permit fee."
Violence
Peak gets arrested for illegally scaling and tagging a building. A detective tells Peak, "I just talked with your mother. She said that I had her permission to beat you to death."
Peak scales skyscrapers for fun, and he often ends up in newspapers as a mystery climber. A boy tries emulating him and he "fell from the Flatiron Building. He's dead . . . The boy had all [of Peak's] news articles pinned up in his bedroom . . . the fall was enough to kill him."
Peak describes high altitude pulmonary edema (HAPE). He says, "Here's how HAPE works: Your lungs fill with fluid, you can't breathe, you go into a coma, then you die."
Sun-jo gives Peak a rundown on the history between Tibet and China. Sun-jo explains, "The people's Republic of China invaded Tibet fifty years ago. Since that time over six thousand Buddhist monasteries and shrines have been destroyed and hundreds of thousands of Tibetans have been killed or jailed."
Peak, Zopa, and Sun-jo arrive at Base Camp "just in time to see Josh get into a fistfight with someone. At 18,044 feet, though, it wasn't much of a fight. An older, red-faced man took a swing, which Josh easily ducked and countered by pushing him in the chest. The man landed on his butt in the snow. After this it was pretty much over except for the shouting." Josh had told the man (as had the man's doctor), that the man was in no shape to go further up the mountain.
Peak hears about someone dying on Everest. One climber says that the man who died "stepped out of his tent in the middle of the night to pee. Idiot was wearing slippers. He slid two hundred yards down a slope into a crevasse so deep the Sherpas say he's probably still falling."
A porter, or a Sherpa, tells a story about a yak that he purchased. An avalanche had almost buried them, and the yak ended up with two broken legs. The porter tells Peak, "There was only one thing to do. I unsheathed my knife and cut his throat." The porter ended up sleeping in the carcass for warmth.
Several climbers die on Everest from HAPE. Peak and Zopa hear that "[the other two climbers] had died at Camp Six two hours after Zopa talked to the distraught German climber the previous day."
 Drugs and Alcohol
Some climbers smoke cigarettes. Zopa "bought up several cartons of cigarettes to sell to them."
Language
Light profanity is used somewhat often. Words include: moron, idiotic, dang, shut up, lame, lousy, and pooped.
At Base Camp, a man denies that he has a heart condition. He yells at the doctor, "That witch doctor of [Josh's] doesn't know what she's talking about." It is meant to be derogatory.
Josh jokingly tells Peak that Josh is "in debt up to [his] crevasse," which makes Peak laugh.
Peak meets Holly, a reporter who he refers to as "a pain in the crevasse."
Josh tells Peak that getting a fourteen-year-old to climb Everest has "more sex appeal" for attracting people to his climbing company.
There is a German doctor at Base Camp, and some of the climbers don't like her. As a result, they say malicious and untrue things. Peak overhears one of them say, "Straight from Nazi Germany, if you ask me. I think she's here to perform experiments on us, not treat us." Another climber mutters, "Heil Hitler" when the doctor's name is mentioned.
Josh tells Peak that he won't be allowed to summit because the other climbers don't want him to. Josh explains, "I'm sorry, Peak. I've been a jackass about this. They're right. This is their climb. They're paying the tab."
As Peak is leaving camp, Josh waves. Peak "returned the wave with a gesture of [his] own," insinuating that Peak held up his middle finger at Josh or something to that effect. Josh responds with "his trademark grin."
Supernatural
Spiritual Content
Peak and Josh stop by Mount Everest before going to Chiang Mai. Peak is surprised and says, "For a climber, saying that you are stopping by Everest is like saying you're going to stop by and see God."
Josh's friend Zopa used to be a sirdar, or Head Sherpa. According to Josh, Zopa is "a Buddhist monk now. Lives at the Indrayani temple. The Lama there has given him permission to forgo his vows for a few weeks to take [Peak] up to Base Camp."
Before going up Everest, all of the climbers go through a puja, which is "a Buddhist blessing ritual."
For the puja ceremony, Peak and Sun-jo build a cairn and raise flags. Peak explains that "as the flags flutter in the wind they release the prayers written on them and pacify the gods."
Peak makes "a special prayer flag" before he attempts the summit.
Peak tells his sisters about the prayer flags. Peak says, "There's a prayer written on the flag. When it blows in the wind the prayers go up to God. If you put the flag really high on a mountain the prayer gets to God faster."
by Alli Kestler
---
"You need to forget everything else and concentrate on the climb. You have enough experience to know when it's over. And when it's over don't take another step higher. If you do, it could be over for good. Turn around. There's no shame in it. Live to climb another day. And when you come back down I hope that good and caring heart of yours thaws. It's the most important muscle you have," Teri Marcello. —Peak