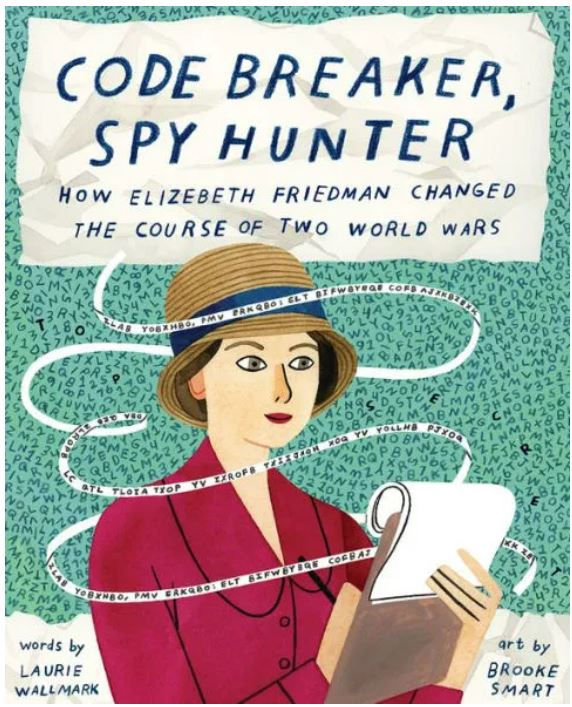 Buy This Book
---
---
"My education as a whole was rather versatile in languages,"

Elizebeth

Friedman

.

—

Code Breaker, Spy Hunter
Code Breaker, Spy Hunter:  How Elizebeth Friedman Changed the Course of Two World Wars
by Laurie Wallmark
AR Test, Picture Book, Strong Female Character
At A Glance
Interest Level

6 – 18
Entertainment
Score
Reading Level
6.3
In 1943, the CIA intercepted messages from Mexico and South America that were believed to be disguised war information. A team of ciphers was able to decode these messages and they discovered that a secret Nazi spy ring was sending the messages. These decoded messages were the evidence needed to arrest thirty-three German spies in what is now known as "the greatest spy roundup in history." This team of ciphers was led by Elizebeth Smith Friedman, a renowned cryptanalyst. Elizebeth's work as a spy and her incredible accomplishments were kept secret, until recently. 
Adapted from Friedman's personal memoirs, Code Breaker, Spy Hunter utilizes watercolor illustrations and simple vocabulary to recount the amazing story of a previously unacknowledged figure. The story is told in a linear narrative detailing the most significant moments of Friedman's career as well as some lesser-known fun facts from her personal life. For example, during dinner parties she hosted with her husband, a fellow cipher, they challenged their guests with the coded address of the restaurant.  
The book retells Friedman's story in a way that is easy for younger readers to navigate while not compromising or minimizing important details to Friedman's story. Although the book features small font and some particularly text-heavy pages, its colorful, minimalist illustrations help readers maintain a consistent understanding of the story. It is important to note that the book assumes that readers already have a basic understanding of both World Wars. If there are young readers who are not yet familiar with these historical periods, parental guidance will be needed. 
In Code Breaker, Spy Hunter, readers will receive an insightful and important education on an overlooked historical figure. Elizebeth's story of small beginnings teaches that hard work and positive relationships are the keys to success.   
Sexual Content 
Violence 
Drugs and Alcohol 
Language 
Supernatural 
Spiritual Content 
---
"My education as a whole was rather versatile in languages,"

Elizebeth

Friedman

.

—

Code Breaker, Spy Hunter