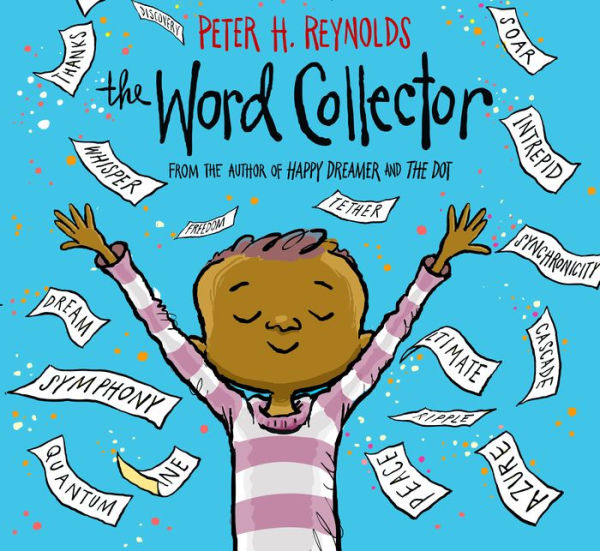 Buy This Book
---
---
"The more words he knew the more clearly he could share with the world what he was thinking, feeling, and dreaming." –The Word Collector
The Word Collector
by Peter H. Reynolds 
AR Test, Must Read, Picture Book
At A Glance
Interest Level

4 – 8  
Entertainment
Score
Reading Level
2.4
Some people collect stamps. Some people collect coins. Some people collect art. And Jerome? He collects words. Jerome discovers the magic of words all around him—short and sweet words, two-syllable treats, and multi-syllable words that sound like little songs. Words that connect, transform, and empower.
As Jerome collects words, he writes them on strips of yellow paper and organizes them in a way that makes sense to him. One surprising aspect of the story is that Jerome "slipped and his words went flying!" This accident allows Jerome to find new connections between words. The words allow Jerome to write poems and songs. Jerome also uses words to give encouragement and to tell someone that he is sorry. Another positive aspect of the story is that Jerome acknowledges that he doesn't know the meaning of all the words. He doesn't know what "aromatic, vociferous, and effervescent" mean, but they are still good words to add to his collection.
The Word Collector is a must-read because it shows the importance of words. "The more words he [Jerome] knew the more clearly he could share with the world what he was thinking, feeling, and dreaming." In the end, Jerome shares his word collection with others, and "he saw children in the valley below scurrying about collecting words from the breeze. Jerome had no words to describe how happy that made him."
Jerome's story comes to life in simple full-page illustrations that focus on Jerome and his words. Most pages have one sentence in addition to a list of words. Readers will need help pronouncing some words like kaleidoscope, guacamole, and torrential. Most of the book's appeal comes from the fact that The Word Collector teaches vocabulary as well as positive life lessons.
As Jerome collects words, he realizes that "some of his simplest words were his most powerful." The Word Collector is a sweet story that highlights the power of a person's words. At one point, Jerome shows how simple words such as "I'm sorry" or "thank you" can have a tremendous impact. Whether you're looking for a story to use as a teaching tool or just want a quick bedtime story, The Word Collector would make an excellent addition to your book collection.
Sexual Content
Violence
 Drugs and Alcohol
Language
Supernatural
Spiritual Content
---
"The more words he knew the more clearly he could share with the world what he was thinking, feeling, and dreaming." –The Word Collector