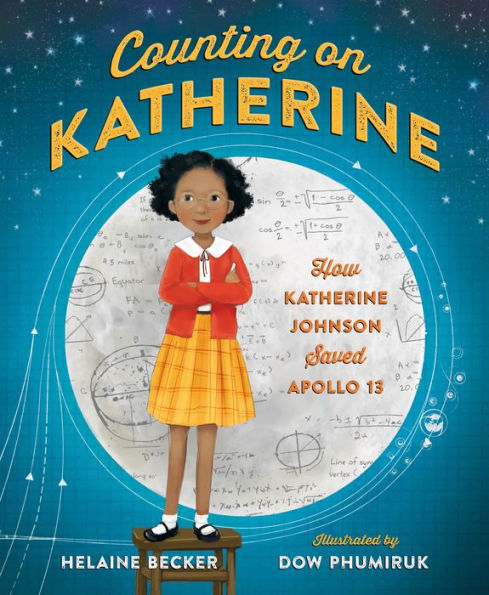 Buy This Book
---
---
Katherine "was no longer the kid who dreamed of what lay beyond the stars. She was now a star herself."–Counting on Katherine
Counting on Katherine: How Katherine Johnson Saved Apollo 13
by Helaine Becker
AR Test, Must Read, Picture Book
At A Glance
Interest Level

5 – 9
Entertainment
Score
Reading Level
4.2
You've likely heard of the historic Apollo 13 mission. But do you know about the mathematical genius who made sure that Apollo 13 returned home safely?
As a child, Katherine Johnson loved to count. She counted the steps to the road, the number of dishes and spoons she washed in the kitchen sink—everything! Boundless, curious, and excited by calculations, young Katherine longed to know as much as possible about math and about the universe.
From Katherine's early beginnings as a gifted student to her heroic accomplishments as a prominent mathematician at NASA, Counting on Katherine is the story of a groundbreaking American woman who not only calculated the course of the moon landing but saved lives and made enormous contributions to history.
In a time when women could not find jobs as research mathematicians, Katherine took a job as a teacher. However, the "space race" gave Katherine and other women an opportunity to work at NASA. Because of Katherine's accuracy and strong leadership skills, astronaut John Glenn and others relied on Katherine's mathematical calculations. Counting on Katherine explains how Katherine Johnson helped determine a spaceship's trajectory. Katherine's life shows that with hard work and determination, dreams do come true.
Counting on Katherine's realistic illustrations add beauty and emotion to the story. The artwork also portrays how Katherine's life was filled with mathematics. The artwork also helps explain how mathematics is essential to space travel. The story shows how "sending a rocket ship into space is like throwing a ball in the air." Through both text and illustrations, Katherine's advanced mathematic equations become understandable to younger readers.
Counting on Katherine explains many of the difficulties that Katherine had to overcome, including segregation and the belief that women could only do "tasks that men thought were boring and unimportant." Even though Counting on Katherine is a picture book, the story has wide appeal for all readers. Counting on Katherine only has 1-6 sentences per page, but younger readers will need help with the story's advanced sentence structure and vocabulary. Readers who want to read additional inspiring space stories should read Mousetronaut by astronaut Mark Kell and Mae Among The Stars, a picture book that was inspired by the story of Mae Jemison, the first African American in space.
Sexual Content
Violence
 Drugs and Alcohol
Language
Supernatural
Spiritual Content
---
Katherine "was no longer the kid who dreamed of what lay beyond the stars. She was now a star herself."–Counting on Katherine