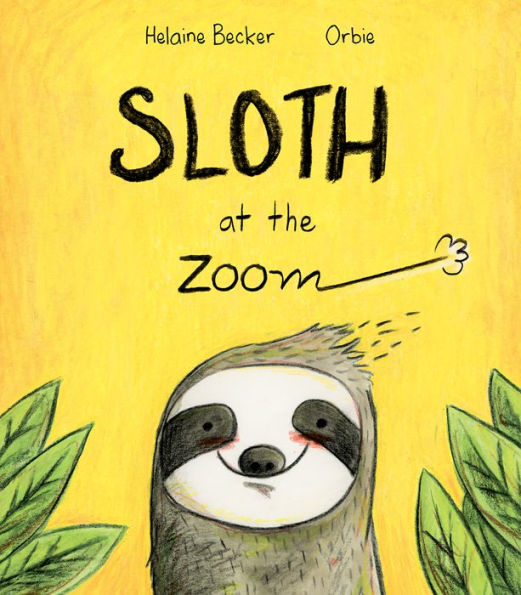 Buy This Book
---
---
"No one has any time," the sloth sighed. –Sloth at the Zoom  
Sloth at the Zoom
by Helaine Becker
Picture Book
At A Glance
Interest Level

3 - 7
Entertainment
Score
Reading Level
2.7
One day, a sloth accidentally gets delivered to the Zoom! She was supposed to be dropped off at the Zzzzzoo, a much more laid-back, slow-paced place. She had been looking forward to long, languorous naps while the sun gently warmed her belly, but at the Zoom, the zebras gallop so fast they leave their stripes in puddles. The monkeys climb so fast they forget to stop at the treetops, and the parrots fly so fast their tails draw rainbows across the sky.
When the sloth tries to make friends, nobody has any time—until the sloth meets a creature who's a little more her speed, and everyone stops to notice. Sloth and the Zoom is a picture book about slowing down to enjoy the little things and making time for what matters.
Sloth at the Zoom will appeal to any animal lover who wonders what animal thinks. Even though the sloth's story is humorous, younger readers will relate to the sloth who wants friends. The story comes alive with bright illustrations that are yellow and green with splashes of color. The text and quote boxes highlight the sloth's slow, slow pace.
Even though Sloth at the Zoom is a picture book, younger readers will need help with some of the difficult vocabulary, including: whinnied, adorned, contented, and philodendron. Each page has 1-4 sentences along with a full-page illustration. Because the story beautifully uses exaggeration and alliteration, Sloth at the Zoom is a great book to read aloud. If you have ever wondered how a sloth spends his day, then Sloth at the Zoom is sure to delight.
Sexual Content
Violence
 Drugs and Alcohol
Language
Supernatural
Spiritual Content
---
"No one has any time," the sloth sighed. –Sloth at the Zoom