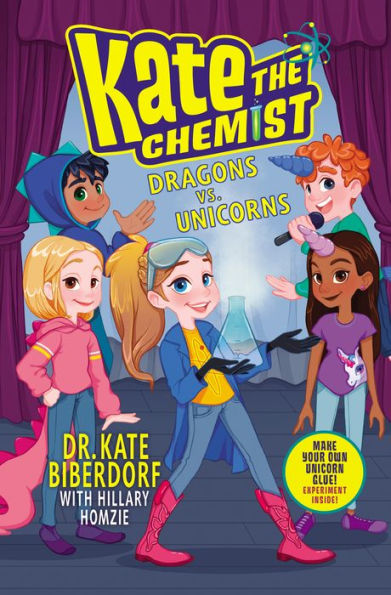 Buy This Book
---
---
"Chemistry is what you eat, it's how you sleep, it's why shampoo stings your eyes in the shower. You can taste science; you can smell it. And you can watch it explode. And that was the reason I had to breathe fire," Kate. –Dragons vs. Unicorns
Dragons vs. Unicorns
Kate the Chemist
by Dr. Kate Biberdorf
AR Test, Diverse Characters
At A Glance
Interest Level

8+
Entertainment
Score
Reading Level
4.7
Kate the Chemist is a ten-year-old science problem solver. There's no problem Kate can't fix. When her best friend, Birdie, is cast as the lead unicorn in their school's musical, Dragons vs. Unicorns, and Kate is chosen to be the assistant director, they agree this is going to be the best musical EVER! Kate is a natural assistant director; like all good scientists, she's smart and organized, but she also comes up with great ideas. But when everything starts going wrong with the musical and Kate realizes someone is sabotaging the show, will her special science sleuthing skills help save the day—and the show?
Dragons vs. Unicorns blends chemistry with a drama production. The story is told from Kate's point of view, which allows readers to understand Kate's emotions as well as her love of chemistry. While Kate has interests besides chemistry, she compares everything to science, which may frustrate readers who don't love science.
Readers who were expecting a book about dragons and unicorns will be disappointed because the mythological creatures never appear in the book. Instead, some of the characters will be dragons or unicorns in the school play. However, the play allows Kate to use science to make it appear as if the dragons are breathing fire. The story focuses on science and also incorporates life lessons about getting along with others and the importance of listening. At one point, Kate's best friend is honest with her and tells her, "you do get stuck in your own head and don't pay attention to what's going on around you."
The short chapters all begin with definitions of science words such as thermal shocks, vapor, and protocol. Simple black and white illustrations appear every 1 to 3 pages. While the illustrations help break up the text, they will not help readers understand the plot or visualize the characters. The book ends with instructions on how to make unicorn glue. Even though the book includes some other experiments, Biberdorf warns readers not to perform them without adult supervision.
Readers who love all things science will enjoy Dragons vs. Unicorns. However, readers who are not interested in science might find the focus on science a little overwhelming. Dragons vs. Unicorns highlights the importance of trying new things and listening to others. However, the only character that is developed is Kate. The story would have benefited from having Kate interact with her peers more.  Dragons vs. Unicorns is an entertaining book that will get readers thinking about how science is used in their daily lives. Readers who would like to mix a little fantasy and science will also enjoy the Zoey and Sassafras Series by Asia Citro.
Sexual Content
Violence
 Drugs and Alcohol
Language
"Holy jeans" is used as an exclamation one time.
Supernatural
Spiritual Content
---
"Chemistry is what you eat, it's how you sleep, it's why shampoo stings your eyes in the shower. You can taste science; you can smell it. And you can watch it explode. And that was the reason I had to breathe fire," Kate. –Dragons vs. Unicorns