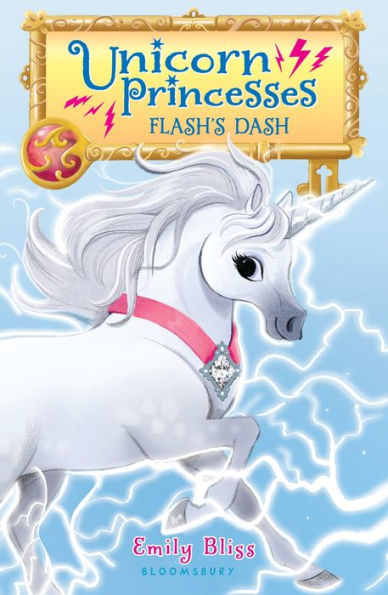 Buy This Book
Buy This Series
---
---
"We all lose our temper sometimes. Especially when we feel hurt," Cressida. —Flash's Dash
Flash's Dash
Unicorn Princesses #2
by Emily Bliss
AR Test
At A Glance
Interest Level

7+
Entertainment
Score
Reading Level
4.7
Cressida, a unicorn-obsessed girl, is invited into the Rainbow Realm, where unicorns live. When Cressida arrives, Princess Flash is preparing for the annual Thunder Dash. For the first time ever, non-unicorns will be allowed to race. Cressida is excited to be the first human girl invited to run in the race.
Then Ernest, the wizard-lizard, has a mishap while casting a spell. Now the racetrack is covered in sticky, pink goo. Will Cressida and the unicorn princess find a way to save the race?
Flash's Dash begins slowly because the story begins with Princess Sunbeam and Princess Flash arguing over who Cressida is friends with. Although the reader learns that a person can be friends with more than one person (or unicorn), the chapter is not very interesting.
Once Cressida jumps into preparing for Flash's Dash, Cressida meets some new characters, including talking boulders. The story will appeal to younger readers because of the interesting characters, silly encounters, and fun conflict. However, readers will also learn the importance of practicing in order to get better.
As Cressida prepares for the race, she learns that Sunbeam doesn't want to participate because she always loses. To make matters worse, she feels self-conscious because she overheard the boulders talking about her. How can she join the race after hearing the boulders say that she looked funny when she ran? In the end, Princes Sundance learns that the boulders actually said, "that she looked downright sunny. You know, like a streak of yellow light." Through Princess Sundance's conflict, the reader will learn how teasing hurts, as well as the importance of talking out problems and misunderstandings.
Flash's Dash is the second book in this series written for children who enjoy chapter books. Beginning readers may struggle with the amount of text on a page as well as the long descriptive passages. The pictures scattered throughout the book are adorably cute; however, they only appear about every three to seven pages. This chapter book would be a good story to read aloud to beginning readers.
Sexual Content
Violence
Drugs and Alcohol
Language
Supernatural
A wizard-lizard makes a spell to change avocados into shoes. He chants, "Fasty Foo! Wing Feet, Fleet Feet, Fast Feet, Blue!" He also makes a magical mishap and changes a race course to pink strawberry cake batter.
The wizard-lizard made bandannas change into gold running shorts and a gold T-shirt. When he tries to use magic to put the clothes on Cressida, she "felt wind swirling around her body, as though she stood at the center of a miniature tornado. When the wind stopped, the gold shorts were inside out and upside down on her chest. . . "
Flash's magical power is "to run so fast that my horns and hooves create lightning."
Cassandra has a magical key that allows her to go to the Rainbow Realm. When she is in the Rainbow Realm, "time in the human world froze."
Cassandra meets a talking boulder and talking forest animals.
Spiritual Content
---
"We all lose our temper sometimes. Especially when we feel hurt," Cressida. —Flash's Dash