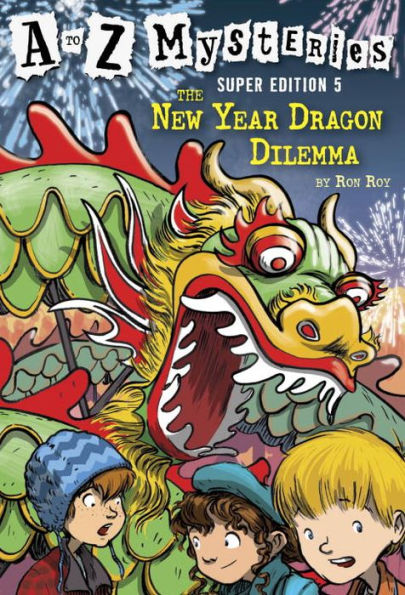 Buy This Book
---
---
"If you just stole a priceless ruby, what would you do?" Dink. –The New Year Dragon Dilemma  
The New Year Dragon Dilemma
A to Z Mysteries Super Edition #5
by Ron Roy 
AR Test
At A Glance
Interest Level

 6+  
Entertainment
Score
Reading Level
3.8
Dink, Josh, and Ruth Rose are in San Francisco, home of the biggest Chinatown outside Asia. Their tour guide, Holden, is going to take them to the famous Chinese New Year parade. Best of all, Holden's girlfriend, Lily, might be Miss Chinatown. She would get to ride a giant float and wear a crown!
During the parade, Miss Chinatown goes missing, and so does the crown. The police think Holden is behind the crime. Can Dink, Josh, and Ruth Rose clear their friend's name by finding the real crook?
While on vacation, Dink, Josh, and Ruth get to see some of San Francisco's touristy areas. The kids have positive interactions with their tour guide, Holden. While with Holden, the kids listen to him and stay close by his side. Holden allows the children some freedom, but he is never far from sight. When the police accuse Holden of stealing Miss Chinatown's crown, the kids are convinced that Holden is innocent and they follow the clues to prove that they are right.
As the kids look for clues to prove Holden's innocence, they follow a man who they think is the culprit. At one point, Dink follows the man into a warehouse. However, Dink's friends are nearby and come up with a plan to keep Dink safe. While exploring the city, Josh draws in his sketchbook, paying close attention to his surroundings. In the end, Josh's power of observation helps solve the mystery.
The New Year Dragon Dilemma will delight young readers who are ready to jump into illustrated chapter books. The story's short chapters and black and white illustrations make the story accessible to readers. Large illustrations appear every 2 to 4 pages. Many of the illustrations are full page and help readers understand the plot. Plus, readers can hunt through the pictures to find a hidden message.
The New Year Dragon Dilemma gives readers a peek into the Chinese New Year celebration. The festive atmosphere is the perfect backdrop for a mystery. Young sleuths will enjoy following the clues and fitting them together to solve the mystery. While young readers will enjoy the adventurous story, parents will appreciate that the curious kids are well mannered. For more mysteries set in San Francisco, readers should check out The San Francisco Splash by David A. Kelly.
Sexual Content
Violence
Someone steals Miss Chinatown's crown. She tells the police, "It was a man wearing a dragon mask. He pulled me down on the floor and took off my mask. Then he sprayed something in my face. It was awful, and it hurt my eyes. . . He put the bag over my head."
 Drugs and Alcohol
Language
Josh teasingly calls Ruth, "Nosy Rosy."
Josh asks, "Where the heck are we?"
Supernatural
Spiritual Content
---
"If you just stole a priceless ruby, what would you do?" Dink. –The New Year Dragon Dilemma