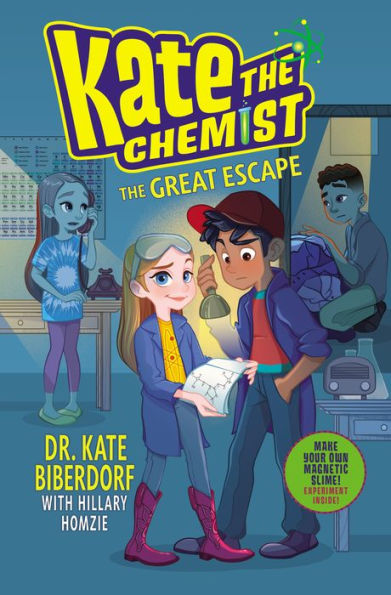 Buy This Book
---
---
"It's not like I don't know the rules. You never allow yourself to get out of control in a lab. And you definitely can't get involved in a tug-of-war involving pliers when there's a potted cactus nearby," Kate –The Great Escape  
The Great Escape
Kate the Chemist
by Dr. Kate Biberdorf 
At A Glance
Interest Level

8+
Entertainment
Score
Reading Level
4.6
What do magnetic slime, a secret code, and the periodic table have in common? They're all part of the science-themed escape room that Kate's science teacher puts on for their class. Will Kate and her friends be able to use their science know-how to crack the code before time runs out?
The Great Escape begins with conflicts that everyone can relate to: friendship drama, arguing with a classmate, and competition. Kate and her class are broken up into groups in order to complete a science project. The group that wins gets to show the whole school how to make a pumpkin vomit. Kate is determined that her group will win, but when Kate and another classmate get into a tug-of-war over pliers, both groups are forced to stay after school and complete an escape room which will require everyone to work together.
The escape room involves helping the legendary scientist, Rosalind Franklin, who was "a science superhero who used X-rays to take images of DNA." As Kate and the other kids try to solve the escape room's mystery, they learn about Rosalind Franklin and other chemistry facts. The kids also learn the importance of working together. Even though the kids rely on science to escape the room, there is enough dialogue and spooky situations to keep the story entertaining.
The short chapters all begin with definitions of science words such as deoxyribonucleic acid, condenser, and double helix. Simple black and white illustrations appear every 1 to 3 pages. While the illustrations help break up the text, they will not help readers understand the plot or visualize the characters. The book ends with instructions on how to make magnetic slime. The book includes some other experiments, but there are no instructions on how to perform those experiments. Even though The Great Escape is the second book in the series, each book can be read as a stand-alone.
The second installment of the Kate the Chemist Series focuses less on science and more on peer relationships, which makes the story interesting. The arguing between the girl's group and the boy's group is realistic and relatable, and the fall theme gives the story a hint of spooky suspense. The Great Escape will appeal to a large range of readers, not just those interested in science. If you're looking for a book that may spark readers' interest in science, The Great Escape would be a good choice.
Sexual Content
Violence
 Drugs and Alcohol
Kate's mother takes Tylenol for a headache.
Language
Supernatural
Spiritual Content
---
"It's not like I don't know the rules. You never allow yourself to get out of control in a lab. And you definitely can't get involved in a tug-of-war involving pliers when there's a potted cactus nearby," Kate –The Great Escape