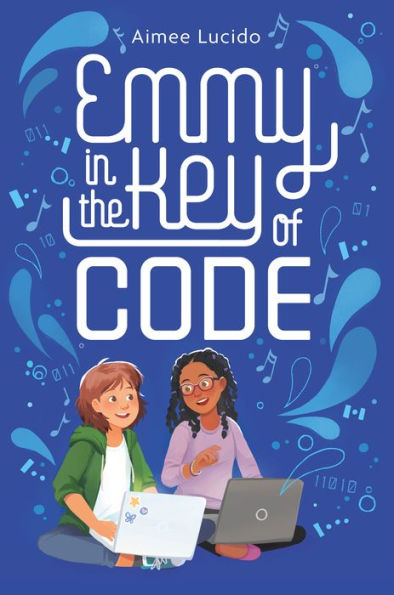 Buy This Book
---
---
"I'm happier now / than I've ever been. / So I guess you're right / Ms. Delaney / that sometimes life has / mixed-up ways / of telling you where you're not supposed to be," Emmy. —Emmy in the Key of Code  
Emmy in the Key of Code
by Aimee Lucido
AR Test
At A Glance
Interest Level

10+
Entertainment
Score
Reading Level
5.9
Twelve-year-old Emmy is the only one in her family who can't make music to save her life. And now that her dad's symphony job has uprooted her to a new city and school, everything seems even more off-key than usual.
Until a computer class changes her tune and Emmy discovers that her coding skills can really sing. Now life is starting to seem a little more upbeat, especially when computer wiz Abigail is around to share tips and tricks with. But can Emmy hold on to her newfound confidence with bad news and big secrets just around the corner? Or will her new life come to a screeching halt?
In Emmy in the Key of Code, Emmy's uncertainty and her desire to belong takes center stage. Unlike her musically gifted parents, Emmy is fearful of being on stage and her singing isn't beautiful. Even though Emmy loves music, she knows her voice isn't stage-worthy. To make matters worse, Emmy moves to San Francisco, which is completely different than Wisconsin. Her clothes are all wrong, she's unable to talk to others, and she goes through each school day alone. She doesn't feel like she belongs anywhere.
Emmy's mother is an opera singer and her father plays the piano. Their musical influence on Emmy comes across both in her love of music as well as her speech. For example, Emmy describes her computer teacher as follows: "The teacher crescendos in / with a smile painted candy-apple red. / A color so joyful / so allegro / so dolce and vivace / that it spills into the rest of her face. . ." In addition, Emmy refers to musical pieces such as Mozart's Don Giovanni. Readers who are unfamiliar with the musical terminology may become frustrated.
Emmy's computer class and her teacher Ms. Delaney have a huge impact on Emmy's life. To show this connection, some of the lines use coding symbols such as brackets, colons, and quotation marks. To make the coding vocabulary understandable, some pages explain what the code means. To highlight the JavaScript, the words are typed in a lighter font. Emmy also explains coding by comparing it to music.
Emmy's story is told in a combination of poetry, JavaScript, music, and narrative. Like Emmy's emotions, some of the text's words appear broken up, jumbled, faded, and with other graphic elements that help convey Emmy's emotions. Emmy, who is extremely likable, has a relatable conflict of a new town and not fitting in. In the end, Emmy and her friend Abagail both learn the importance of being "a girl who today / made the decision / to listen to what she loves."
Readers will relate to Emmy's desire for friendship and belonging. Lucido's beautiful writing comes alive and teaches that programming is for everyone. In the end, Emmy discovers that her love of music and coding can blend to make something truly beautiful. Readers who love books about smart girls who can code should add Click'd by Tamara Ireland Stone to their reading list.
Sexual Content
Violence
 Drugs and Alcohol
Language
Jerk is used three times. For example, Abigail asks why Francis is "such a jerk all the time."
Abigail's friends meet her outside of the computer class. One girl says, "I hate thinking of you in a class / with all these weirdos."
A student asks Mrs. Delaney, "Why did you leave your fancy job / to come teach idiots / like me: }"
Supernatural
Spiritual Content
---
"I'm happier now / than I've ever been. / So I guess you're right / Ms. Delaney / that sometimes life has / mixed-up ways / of telling you where you're not supposed to be," Emmy. —Emmy in the Key of Code