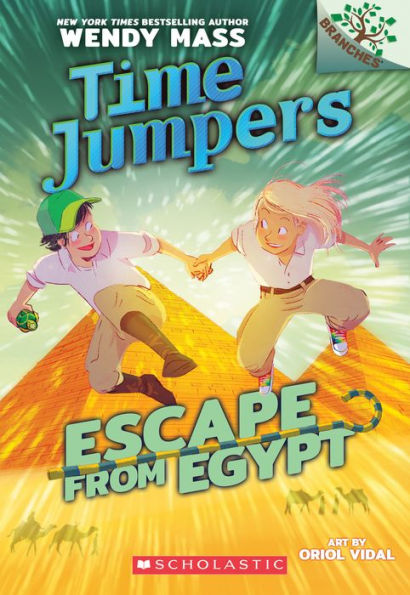 Buy This Book
Buy This Series
---
---
"Now we look like real archaeologists. We're ready to dig up ancient treasures," Ava. –Escape from Egypt
Escape from Egypt
Time Jumpers #2
by Wendy Mass
AR Test
At A Glance
Interest Level

96
Entertainment
Score
Reading Level
3.7
Chase and Ava find a scarab beetle that used to belong to King Tut. They know they must take the beetle back to where it belongs. When they jump back in time, they end up in Egypt! They are excited to see the pyramids and hope to meet the famous King Tut. The villain Randall is in Egypt too, and he wants the jeweled beetle for himself. How can Chase and Ava stay ahead of Randal? The two siblings must find a way to put the beetle back where it belongs.
The second installment on the Time Jumpers series is even better than the first, Stealing the Stone. As Chase and Ava try to unwrap the mystery behind the suitcase, go to visit the person who sold it to them. However, she leaves the two with more questions than answers. As Chase and Ava plan their next visit to the past, Chase uses an Egyptian History book to research the scarab beetle. With the book, Chase is able to figure out what he and Ava must do to return the object where it belongs.
When Chase and Ava go back to the 1920's Egypt, they are able to see the pyramids and learn some historical facts about King Tut, and the famous archaeological dig that discovered King Tut's tomb. Younger readers will enjoy learning historical facts as Chase and Ava travel to Egypt. The reappearance of villain Randall, who has two colored eyes, keeps the suspense high. Like the previous book in the series, Escape from Egypt highlights the importance of teamwork.
Escape from Egypt is a fast-paced story that gives readers a glimpse of an archaeological dig and shows the importance of the jeweled scarab beetle. Escape from Egypt is part of the Scholastic's Branches early chapter books, which have easy-to-read text and illustrations on every page. The story uses short descriptions and dialogue to keep the story moving at a fast pace. The black and white illustrations appear on every page and help break up the text into manageable sections. Escape from Egypt has several characters that appear in book one, which requires the Time Jumpers series to be read in order.
Sexual Content
Violence
When the villain tries to steal a scarab beetle Chase and Ava must stop him. When the villain, "lunges for them but trips over Ava's shovel and gets a face full of sand! He tries to get up, but Chase lobs his clipboard at him. . . Randall slides right back down onto the sand."
Drugs and Alcohol
Language
Supernatural
When Chase and Ava touch an object from the suitcase, they begin to spin and go back in time.
Spiritual Content
---
"Now we look like real archaeologists. We're ready to dig up ancient treasures," Ava. –Escape from Egypt