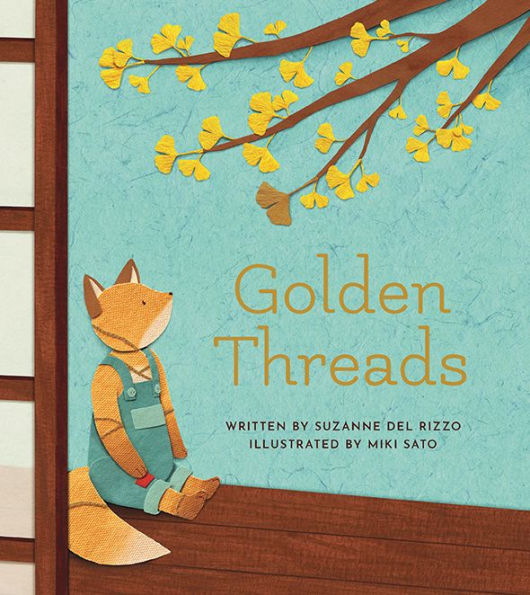 Buy This Book
---
---
"My stitched, stuff chest was like a sea pod filled full to the brim. Grateful. Restored. Loved." Fox. –Golden Threads  
Golden Threads
by Suzanne Del Rizzo
Picture Book
At A Glance
Interest Level

4 – 8
Entertainment
Score
Reading Level
3.8
When a storm sweeps Emi's beloved stuffed fox away from their mountain home, he ends up tattered and alone on a distant shore. A kind old man finds the fox and gives it to his granddaughter, Kiko. As she recovers from an injury of her own, Kiko mends the fox lovingly with golden thread.
As the seasons pass, Kiko cares for the fox as her own. While the fox is with his new friend, Kiko sews him with golden thread. After discovering his origins, she sets out with her grandfather's help to bring the fox back to its original home. Once together, Emi and Kiko piece together the fox's journey and find delight in their newly forged connections.
Told from the stuffed fox's point of view, readers will relate to the fox who is lost and misses his friend, Emi. The fox worries that because of his "tattered paws and matted fur" that Emi will no longer want him. The illustrations depict Kiki's injury and imply that both Kiki and the fox will be better than before after they heal. The story shows how the fox brings Emi and Kiki together and helps them form a friendship.
Golden Threads is inspired by the Japanese art form of kintsugi, or golden joinery, where broken pottery is repaired with resin painted gold. Kintsugi values repairing, rather than replacing, believing that the cracks give the broken item its story. This book is also a warm celebration of wabi-sabi, the Japanese idea that there is beauty in things that may be incomplete or imperfect.
Any child who has a favorite stuffed animal will love Golden Threads and understand the themes of getting lost, healing, and coming home. The sweet story has beautiful paper-cut illustrations with depth and warmth. Even though Golden Threads is a picture book, the story is intended to be read aloud to a child, rather than for the child to read it for the first time independently. The alliterations and descriptions make the story fun to read aloud. However, younger readers may have difficulty with the complex sentence structure and the vocabulary. Each page has 1-4 sentences, which makes Golden Threads perfect to read aloud. Golden Threads beautifully conveys the message that people and stuffed animals do not need to be perfect in order to be loved.
Sexual Content
Violence
 Drugs and Alcohol
Language
Supernatural
Spiritual Content
---
"My stitched, stuff chest was like a sea pod filled full to the brim. Grateful. Restored. Loved." Fox. –Golden Threads