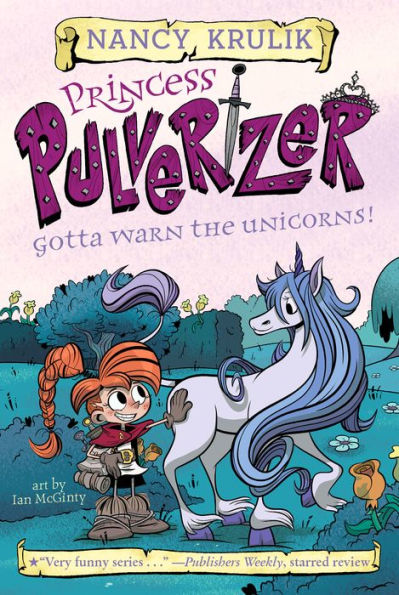 Buy This Book
---
---
"The king here must be brave. His royal crest has a lion on it. Lions are brave—like I wish I could be," Lucas. –Gotta Warn the Unicorns  
Gotta Warn the Unicorns
Princess Pulverizer #7
by Nancy Krulik
AR Test
At A Glance
Interest Level

6+
Entertainment
Score
Reading Level
3.3
Princess Pulverizer is so close to completing the Quest of Kindness that will allow her to go to Knight School. Before she can do her next good deed, she needs to help Fortune—a unicorn she recently rescued—find his family.
When a cowardly king orders his knight to capture all the unicorns they can, it's up to the princess and her pals to warn the unicorns before it's too late. But first they have to find them. Can Princess Pulverizer, her friend Lucas, and Dribble the dragon save the unicorns?
With her same feisty attitude, Princess Pulverizer faces King Harvey the Lion-Hearted. The cowardly king is convinced someone is trying to poison him and the only solution is to find a unicorn horn. When his knights present the king with a false unicorn horn, Princess Pulverizer shows off her unicorn knowledge and explains why the horn is not truly from a unicorn. She didn't mean to endanger the unicorns, but her prideful nature has made King Harvey send his knights out on a unicorn hunt.
Princess Pulverizer is determined to fix her mistake and save the unicorns. Readers will giggle as Princess Pulverizer and her friends trick the king's knights. King Harvey's ridiculous behavior also adds humor. However, some of the story's humor comes from the gassy king who likes to eat beans. The story's comedy doesn't interfere with the important message of not showing off.
Gotta Warn the Unicorns has a spunky, selfish princess who is trying to learn to be more like a knight. In the end, she praises her friend Lucas and asks King Harvey to give Lucas the magic lion charm. The story's conclusion will leave readers curious about where Lucas's newfound courage will lead them. Readers will be eager to grab the next book in the series, Yo-Ho, Yo . . . NO!
Gotta Warn the Unicorns is perfect for readers who are ready for chapter books. The story contains easy vocabulary and short paragraphs. Black-and-white illustrations appear frequently and add humor to the story. Gotta Warn the Unicorns will engage readers and encourage them to be kind to others.
Sexual Content
Violence
Drugs and Alcohol
Language
Supernatural
Princess Pulverizer has a magic mirror that shows the future.
Princess Pulverizer has a magic ring that allows her to enter a room in complete silence.
Princess Pulverizer has a magic arrow. "If ever the holder of the arrow finds themselves lost, it will always point them toward home."
Princess Pulverizer has a magic mace that has "the power to heal the wounds of anyone on the side of all that is good and right."
Princess Pulverizer has a truth-telling sword. "If someone is lying, it will wiggle. But if he's telling the truth, it will lie still."
Spiritual Content
---
"The king here must be brave. His royal crest has a lion on it. Lions are brave—like I wish I could be," Lucas. –Gotta Warn the Unicorns