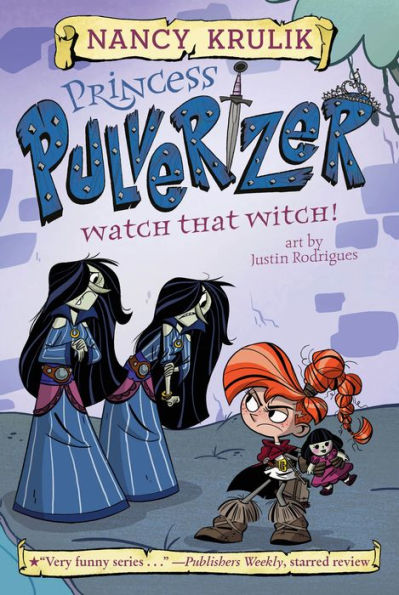 Buy This Book
---
---
"Being a noble knight is not something you can become overnight. It takes time. And training. . . My father was right. I have a lot to learn," Princess Pulverizer. –Watch that Witch
Watch that Witch
Princess Pulverizer #5
by Nancy Krulik
AR Test
At A Glance
Interest Level

6+
Entertainment
Score
Reading Level
4.2
Princess Pulverizer is desperate to finish her Quest of Kindness so she can finally go to Knight School. The problem is, she's only halfway through her required number of good deeds. So when a witch offers to make her a knight right away—as long as Princess Pulverizer works for her—it's a no-brainer. What could go wrong?
Princess Pulverizer is in a hurry to reach her goal. When the evil witch, Elle, offers to make her a knight immediately, Princess Pulverizer is convinced that causing a little mischief isn't such a big deal. As the princess causes problems for others, the good witch tries to undo Princess Pulverizer's pranks. Throughout the tale, the princess learns that "being a noble knight is not something you can become overnight. It takes time. And training. . . My father was right. I have a lot to learn."
Readers will enjoy the story's characters, which include twin witches, a faithful friend, Dribble the Dragon, and an impatient princess. Readers will relate to the princess's desire to quickly reach her goal.  Watch that Witch is perfect for readers who are ready for chapter books. The story contains easy vocabulary and short paragraphs. Princess Pulverizer has many funny puns, introduces some new vocabulary, and has a tongue twister. Black-and-white illustrations appear frequently and will help readers picture the events in the story. The illustrations show Princess Pulverizer's facial expression and her vast emotions in a humorous way.
Watch that Witch has interesting characters, a relatable conflict, and plenty of humor to keep readers interested. Young readers will enjoy the interesting topic and parents will like the positive messages about friendship, working hard, and being nice. The story reinforces the idea that teamwork is important and that "when we work together, no one can stop us." Watch that Witch will make a fun addition to any child's reading list. Readers will be eager to pick up the next book in the series, The Dragon's Tale. Readers interested in knights may also want to try the Roland Wright Series by Tony Davis.
Sexual Content
Violence
A little boy has a gingerbread cookie, but then a witch shows up and brings the cookie to life. "The child looked surprised as his gingerbread cookie dropped to the ground and began to dance on its own." The cookie bites the boy's leg, then "the gingerbread boy ran off down the road."
During a jousting match, "something slammed Princess Pulverizer right in the chest. She felt herself falling and then everything went black."
Drugs and Alcohol
Language
Lucas left Knight School because some of the boys made fun of him and called him "lily-livered."
Twice, the evil witch calls the princess a "fool."
Supernatural
The princess has a sword of truth that quivers when someone is not telling the truth.
The story has two witches, one that is good and one that is evil. One witch "snapped her fingers and pulled a gingerbread cookie seemingly out of thin air." She gives the cookie to a little boy, then "the woman in the blue gown waved her hand again and magically vanished."
The princess has a magic mace that heals people's wounds, "but the king also said that if we try to use the mace's power on someone who is deceitful or evil, its magic will disappear." When the princess waves the mace over Dribble's blister, the blister dissolves.
The evil witch gives the princess a pin that puts her under a spell. While she wears the pin, the princess must do what the evil witch tells her to do.
The princess wears a ruby ring that "gave whoever wore it the ability to move without making a sound."
When the princess begins to talk to the good witch, the princess "felt a piece of cloth fly into her mouth, blocking her words. She tried to pull the gag from her mouth, but already a white rope had magically tied her hands behind her back. Another rope was slithering its way around her legs, binding them so she couldn't walk. . .a locked cage appeared magically around Princess Pulverizer. She was trapped!"
When the princess tries to escape, "she felt her feet lift off the ground. . .The wicked witch was waving her hands in the air. She was the reason the princess was flying in midair."
The princess tricks the evil witch into looking into a magical reflecting pool. "Without thinking, she looked down into the water. A moment later, her fingers curled like a tiger's claws. Her feet hardened like lead. And her skin turned gray as slate." The evil witch turns into stone.
The princess is given a hand mirror as a gift. The mirror's "magic is powerful. You can see the future reflected in the glass."
Spiritual Content
---
"Being a noble knight is not something you can become overnight. It takes time. And training. . . My father was right. I have a lot to learn," Princess Pulverizer. –Watch that Witch