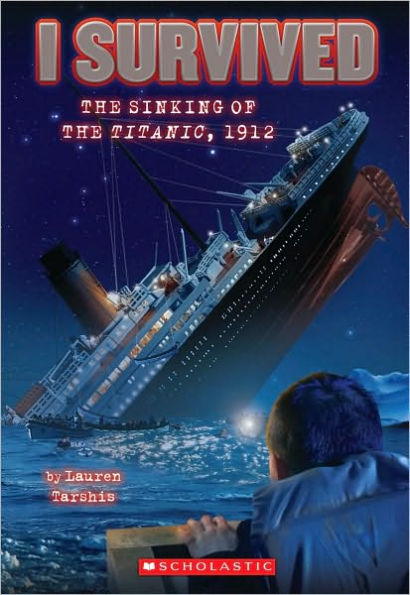 Buy This Book
Buy This Series
---
---
"Mr. Stead chuckled. 'In any case, nothing can harm this ship. Not even the curse of a mummy!'" –I Survived the Sinking of the Titanic, 1912
I Survived the Sinking of the Titanic, 1912
I Survived
by Lauren Tarshis
AR Test, Good for Reluctant Readers
At A Glance
Interest Level

7+
Entertainment
Score
Reading Level
3.9
George Calder must be the luckiest kid alive. He and his little sister, Phoebe, are sailing with their aunt on the Titanic, the greatest ship ever built. George can't resist exploring every inch of the incredible boat, even if it keeps getting him into trouble.
Then the impossible happens: the Titanic hits an iceberg and water rushes in. George is stranded, alone and afraid, on the sinking skip. He's always gotten out of trouble before…but how can he survive this?
Readers will relate to George, whose curiosity gets him into trouble. Because George loves to explore, the reader is able to see different areas of the Titanic. In the end, George's curiosity helps him save his sister and aunt. Even though the story focuses on the Titanic, George is also dealing with the death of his mother, which has caused friction between George and his father. However, George's relationship with his sister is sweet and adds some humor to the story. Because George has many facets to his personality, the conclusion has several surprises that give depth to the story.
I Survived the Sinking of the Titanic, 1912 answers the broad questions about the day's events without giving readers a graphic image of the passengers' deaths. When the ship begins to sink, George's curiosity and perseverance help keep him and others safe. Even though the story is historical fiction, the ending doesn't focus on those who died. Instead, the story leaves the reader with a sense of loss and with a sense of hope. In the end, George and his father begin to repair their relationship.
I Survived the Sinking of the Titanic, 1912 uses a relatable character and suspense to answer readers' questions about the sinking of the Titanic. The story is accessible to all readers because Tarshis uses short paragraphs and simple sentences. Realistic black and white illustrations are scattered throughout the story and break up the text. While the story weaves interesting facts through, the book also ends with more facts about the Titanic. I Survived the Sinking of the Titanic, 1912 uses kid-friendly descriptions to educate readers about the Titanic and can be used as a springboard for learning more about the sinking of the ship. Proficient readers who would like to learn more about the Titanic should add Survival Tails: The Titanic by Katrina Charman to their must-read list.
Sexual Content
Violence
George snuck into the baggage room, trying to find a mummy that was rumored to be on the ship. While there, "something leaped out of the shadows and pushed him to the ground." George sees a man "with glittering blue eyes and a scar running down the side of his face." Before the man could hurt George, "there was a tremendous rumbling noise… A trunk tumbled off a shelf and hit the scar-faced man on the head."
When the Titanic begins to sink, a steward locks a gate so the third class passengers cannot go up deck. As the passengers begin to get rowdy, the steward "took a pistol from his pocket. His hand shook as he waved it toward the crowd."
George's aunt and sister are able to get on a lifeboat, but George is left on the ship's deck. As the Titanic was sinking, "Lounge chairs sailed past them and crashed over the side. People clung to the rails. A few slipped and were swept overboard." A man helps George jump into the water and swim away from the sinking ship.
When the ship goes down, George hears "people calling for help. More and more people, screaming and yelling, hundreds of voices swirling together like a howling wind."
 Drugs and Alcohol
Language
Supernatural
Spiritual Content
---
"Mr. Stead chuckled. 'In any case, nothing can harm this ship. Not even the curse of a mummy!'" –I Survived the Sinking of the Titanic, 1912