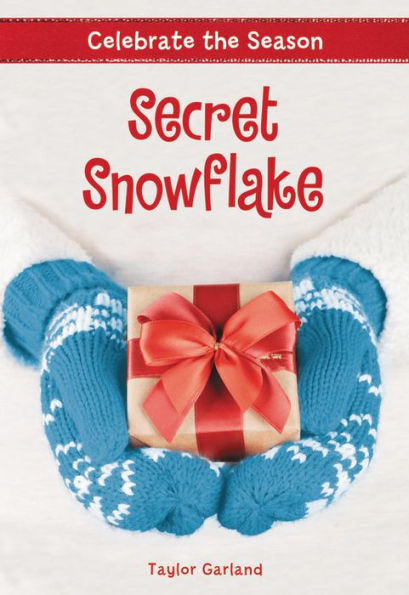 Buy This Book
---
---
"Christmas, first and foremost, was about kindness and compassion. Forgiveness and understanding," Riley. –Secret Snowflake
Secret Snowflake
Celebrate the Season
by Taylor Garland
AR Test, Must Read
At A Glance
Interest Level

8+
Entertainment
Score
Reading Level
5.0
Riley has been looking forward to the English class' Secret Snowflake project all year. As part of the assignment, the students are having an anonymous gift exchange. Riley is even more excited when she gets to be the Secret Snowflake for her crush, Marcus Anderson. Based on a smile, Riley is convinced that Marcus might be her Secret Snowflake too!
Riley wants to make the gifts extra special. She uses her crafty nature to make homemade gifts. Riley's best friend thinks Marcus might think homemade gifts are lame. Trying to find the perfect gift, Riley begins paying extra attention to Marcus. Soon, she wonders if her secret crush is really as wonderful as she imagined.
When Riley starts receiving gifts, she knows that her Secret Snowflake has paid extra attention to her. All of Riley's gifts are sparkly and perfect. Is Marcus really Riley's Secret Snowflake. . . or will Riley be crushed when her Secret Snowflake's identity is revealed?
Riley's excitement and enthusiasm for Christmas make Secret Snowflake a sparkly read. Middle school readers will empathize with Riley, who is experiencing her first crush. However, Riley's crush doesn't take over the story. Instead, Secret Snowflake is a story of friendship, family, and bringing Christmas cheer to others. Riley is a relatable character with positive qualities. She is kind to her brother, is part of a choir that sings in a nursing home, and helps her best friend reach out to a new girl.
In the end, Riley learns that her secret crush "focused an awful lot on things that Riley didn't really care about. . . Sure she could be interested in someone who loved sports—but not someone who measured worth in dollars and cents. And definitely not someone who would throw a handmade gift in the trash like it was garbage." When Riley's crush says mean things about his Secret Snowflake's gifts, Riley is hurt and cries in the school bathroom. However, she doesn't mope for long. Instead, she joins the festivities and realizes that a boy is worthy when he is kind, caring, and thinks of others.
Secret Snowflake will get readers into the gift-giving holiday spirit. The engaging story shows how simple things like baking cookies and making ornaments are what the season is all about. There's a lot to like about Secret Snowflake. Riley is a good friend, her family is portrayed in a positive light, and the story shows the importance of thinking about others. Young girls will fall in love with Riley and be motivated to create their own crafty gifts. Anyone looking for a fun, positive holiday story should put Secret Snowflake at the top of their reading list.
Sexual Content
Violence
Drugs and Alcohol
Language
When Riley thinks her Secret Snowflake might think her homemade Christmas ornament is "dumb or babyish," her brother says, "Then he sounds like a jerk!"
Supernatural
Spiritual Content
---
"Christmas, first and foremost, was about kindness and compassion. Forgiveness and understanding," Riley. –Secret Snowflake