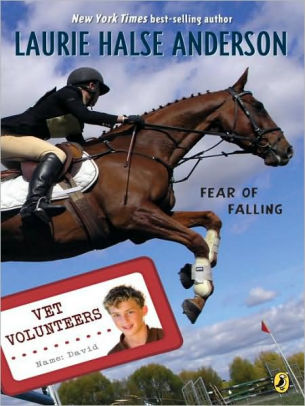 Buy This Book
---
---
"We all missed you, Dad. . . Mom knocks herself out to look after us and pay the bills too. And Ashley—she wears that stupid purple sundress like it's some magic princess dress that will bring you back if she just wishes hard enough," David. –Fear of Falling  
Fear of Falling
Vet Volunteers #9
by Laurie Halse Anderson
AR Test
At A Glance
Interest Level

8+
Entertainment
Score
Reading Level
4.1
David's father left town a year ago, abandoning his family. David's family struggles with the changes that David's father forced upon them. The bright spot in David's day is riding horses and volunteering at Dr. Mac's veterinary clinic.
When David's father suddenly appears, he promises to teach David how to jump on horseback. David can't let his father know how frightened he is, because the only thing that scares David more than falling off a horse is disappointing his father. Can he overcome his fear and earn his father's pride?
Fear of Falling is a fast-paced, interesting story that blends David's family problems with horse action. David has been working with Trickster, a horse that is afraid of getting into a trailer. As David works with the skittish horse, he must be patient and not force Trickster to work on "people-time." The key to Trickster's healing is allowing the horse to work at his own pace. This helps reinforce the idea that horses and people should learn at their own pace and not hurry into things before they are ready.
Many readers will relate to David, who has learned that his father's promises cannot be trusted. Because the story is told from David's point of view, readers can understand both David's hopes and fears. David's fear of falling off a horse connects back to Trickster's fear, which adds interest to the story. Through David's experiences, readers will see the danger of pushing yourself to do something that you are not ready for—including trusting others.
Since the story is only 111 pages, the themes are not well developed. While the story focuses on horses, Fear of Falling lacks facts about horses and instead focuses on David's struggle with his father. While the conclusion doesn't resolve David's conflict with his father, the story ends on a realistic, hopeful note. The short chapters, interesting plot, and relatable characters make Fear of Falling a book that will appeal to readers of different ages. Horse-loving readers who are ready for more advanced books should also read The Rose Legacy by Jessica Day George.
Sexual Content
Violence
While riding a horse, David feels like "I'm on a runaway train, heading for disaster—and I don't know how to stop." The horse sends David "flying through the air like a catapult. And then I fall, fall, fall . . ." David is taken to the hospital, but he doesn't have any serious injuries.
 Drugs and Alcohol
While David is in the hospital, the doctor tells his parents, "I'll give him a prescription of painkillers if you want. But I think ibuprofen should take care of it."
A woman brings her sick cat to the veterinarian, who gives the cat "a fast-acting steroid."
Language
David's brother calls him an idiot and a dork one time.
When he finds out his dad has lied to him, David calls his father a coward.
Darn is used twice.
Supernatural
Spiritual Content
---
"We all missed you, Dad. . . Mom knocks herself out to look after us and pay the bills too. And Ashley—she wears that stupid purple sundress like it's some magic princess dress that will bring you back if she just wishes hard enough," David. –Fear of Falling