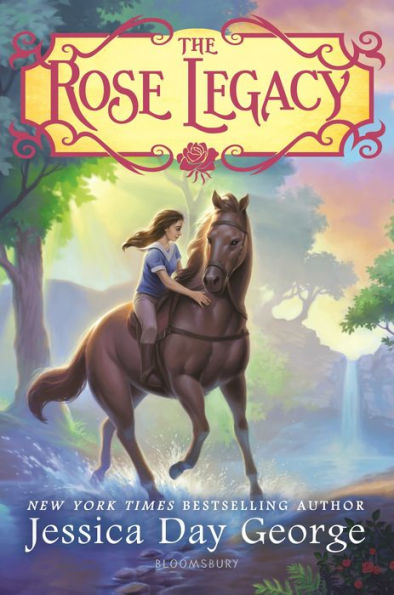 Buy This Book
---
The Rose Legacy
by Jessica Day George
AR Test
At A Glance
Interest Level

8+
Entertainment
Score
Reading Level
5.4
Since the death of her parents, Anthea has never felt wanted. Her family shuffles her from relative to relative. Her life is uprooted when she receives a letter from an uncle who lives in the exiled lands. Anthea dreams of being a Rose Maiden to the queen like her mother, but she fears that being sent to live beyond the wall will end her dream. Feeling scared of living beyond the wall, Anthea's nightmare becomes worse when she learns that her uncle breeds horses—animals thought to be extinct after bringing a plague to Corona.
Anthea questions everything that she has been taught as she learns more about her family, her country's political history, and herself. When Anthea tries to flee, she meets Florian, a horse from her childhood. For years, Florian has dreamed of being reunited with Anthea. With the help of Florian and a mix of interesting characters, Anthea learns that things are not always what they seem.  When danger threatens her new family, Anthea learns to trust others as well as herself in order to save the horse that she has come to love.
Jessica Day George's cast of characters in The Rose Legacy is diverse, interesting, and captivating. The story is told from both Anthea's and Florian's points of view. This allows the readers to understand Anthea's confusion, fear, and her desire to be wanted. The connection between Anthea and Florian is remarkably sweet and shows the true meaning of love.
Anyone who loves a good story should add The Rose Legacy to their reading list. Full of suspense, emotion, and surprises, the story will captivate readers of all ages. The story isn't just about horses, but the power of friendship and overcoming one's fears as well.
Sexual Content
As part of the narration, Anthea mentions that a man had "gotten fresh" with her teacher.
A boy gives Anthea a necklace for her birthday and "kissed her on the cheek and then fled."  Anthea thinks, "It had been a very nice kiss. . . . His lips had been very warm and soft."
Violence
When Anthea tries to save an owl, a horse named Constantine gets angry and tries to trample her. Another horse, Florian, intervenes, and the stallions fight. "Constantine bit Florian's neck with his yellow teeth. . . . Constantine came thundering toward them, seeing that Anthea was about to escape . . . lashed the boards, trying to break through to get to them."
One of the horses gets caught in a hunter's snare. When Anthea tries to free him, "the wires that were still wrapped around his legs arced through the air with a singing noise. . . . A wire slashed open her face just below the left eyebrow, narrowly missing her eye, and a rivulet of blood obscured her vision."
A hunter shoots and hits a horse and Anthea. "When the bullet ripped through her side, Anthea honestly didn't understand what had happened."
Drugs and Alcohol
A train conductor offers Anthea's uncle a glass of whiskey.
Language
Supernatural
People who have "the Way" can communicate with horses and feel the horse's emotions.
Spiritual Content
One of the characters says, "Then they'll probably find some long-lost sacred tablet that says that horses are the devil's pets and we have to destroy them all or burn in hell!"