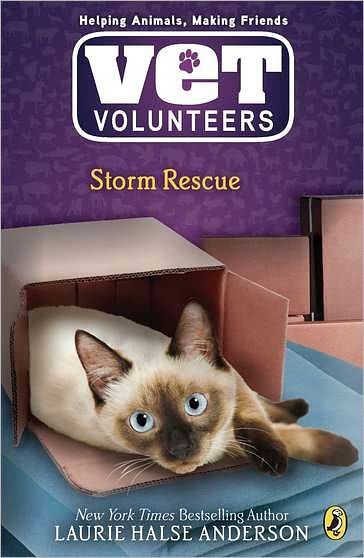 Buy This Book
Buy This Series
---
---
"You mean you jumped in and swam to the rescue, even though you didn't know how to swim? That's pretty brave," Zoe. –Storm Rescue
Storm Rescue
Vet Volunteers #6
by Laurie Halse Anderson 
AR Test, Diverse Characters
At A Glance
Interest Level

8+
Entertainment
Score
Reading Level
4.3
Sunita and her friends—Zoe, Brenna, David, and Maggie—all volunteer at Dr. Mac's veterinary clinic. The kids work with all kinds of pets, but each one has a favorite. For Sunita, cats are the best pets, but she is afraid of dogs, especially big dogs.
Sunita is also afraid of the water, which is why she has never learned to swim. As a hurricane approaches, Sunita realizes that Lucy, a diabetic cat with a broken leg, is in danger, along with her owners. But when the evacuation begins, both vets are out on emergencies. Will Sunita be able to save Lucy or will she be a scaredy-cat? And when a Great Dane needs help, will Sunita be able to get past her fear?
Storm Rescue is told from Sunita's point of view, which allows the reader to understand her fears. However, Sunita's actions are often irresponsible and dangerous. For example, when Sunita goes to check on an injured cat, she isn't completely honest about where she is going because she knows her mother would never allow her to go into a flooded neighborhood during a hurricane. When rescue workers leave Lucy in the house, Sunita convinces her two friends, David and Maggie, to canoe to the house and try to rescue the cat on their own. Even though Sunita cannot swim, she jumps into the freezing water and doggie paddles to the attic window. While her intentions were honorable, Sunita's actions could have easily lead to her and her friends' deaths.
While the hurricane adds suspense to the story, some events in the story are not realistic, including how Sunita and her friends rescued Lucy. In addition, when the wet kids come in from the storm, Dr. Mac puts the kids to work caring for the animals before they even have a chance to dry off. In this installment of Vet Volunteers, the adults are off helping animals, but this leaves the unsupervised eleven-year-old kids to make unwise decisions. The story never acknowledges Sunita's impulsive, dangerous actions. Instead, Sunita's actions are praised.
Readers will relate to Sunita's desire to help animals in distress and cheer when she is able to overcome her fear. However, the story's short length does not allow her or the plot to be well developed. While the story teaches about the dangers animals face during a natural disaster, the characters needlessly put themselves in danger. The book ends by giving information on how to keep animals safe during a natural disaster.
The story is educational and will keep the reader's interest. The happy ending is slightly unrealistic; however, the conclusion shows that one person can make a difference. The short chapters, interesting plot, and relatable characters make Storm Rescue a book that will appeal to animal lovers of different ages.
Sexual Content
Violence
 Drugs and Alcohol
The vet gives a scared dog a tranquilizer to calm him down.
Language
When a worried pet owner calls the clinic, one of the kids says, "Mrs. Creighton is a nut. Precious is probably on a hunger strike to try to get herself a new owner."
Supernatural
Spiritual Content
---
"You mean you jumped in and swam to the rescue, even though you didn't know how to swim? That's pretty brave," Zoe. –Storm Rescue