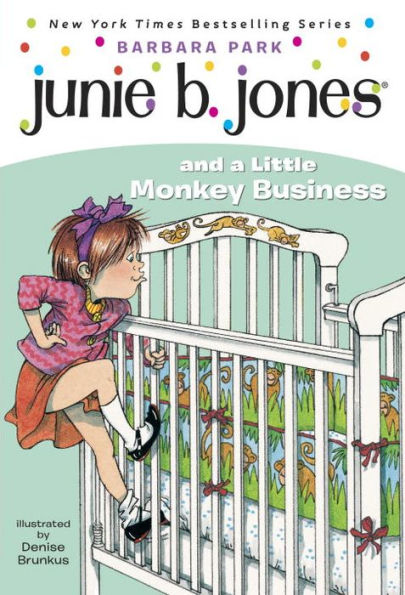 Buy This Book
Buy This Series
---
---
"Then that dumb Grace shot off her big fat mouth about her shoes. And so I got marched down here. And I had to sit in the bad kid's chair." Junie B. – Junie B. Jones and a Little Monkey Business
Junie B. Jones and a Little Monkey Business
Junie B. Jones #2
by Barbara Park
AR Test
At A Glance
Interest Level

6+ 
Entertainment
Score
Reading Level
2.9
Junie B. Jones is not excited when her parents tell her they are having another baby. She is excited, however, when the baby is born and her grandmother describes him as "the cutest little monkey." Junie B. goes to school and announces at Show & Tell that her brother is a monkey with long fingers and loads of black hair.
Trouble ensues when Junie B.'s friends both want to be the first to see Junie B.'s baby monkey brother. Junie B. manipulates both friends by giving vague promises so they will bribe her with gifts. Junie B. enjoys the attention and takes all of her friends' things, until one of her friends begins to cry. When the confusion is aired out, Junie B. learns that sometimes adults say things that don't make loads of sense to kids. Like "cutest little monkey" or "the bees' knees."
In the second book in the series, Junie B. is still a spoiled child with no respect for others' boundaries. She shouts at people, she calls people dumb, and she does not listen well to her parents or teachers. Junie B. also ignores her friend's hurt feelings. Even after taking all of her friend's nice things (including her friend's new shoes) and making her friend cry, Junie B.'s main thought is "and then that dumb Grace shot off her big fat mouth about her shoes." When sent to the principal's office, Junie B. fails to take any responsibility for her actions.
While Junie B. Jones is the main character in all of the Junie B. Jones books, readers do not need to read the books in order. Easy vocabulary and simple sentence structure make the story accessible to young readers. Black and white illustrations appear every five to ten pages and will help readers understand the plot.
While Junie B. Jones and Little Monkey Business will no doubt entertain young readers; the bigger question is whether parents want their children reading a story with a terrible role model. Unless Junie B. Jones starts learning kindness, empathy, and boundaries, this series' entertainment value will fail to outweigh the life lessons that it imparts. Parents looking for a series with a positive role model should check out Diary of an Ice Princess by Christina Soontornvat and The Critter Club Series by Callie Barkley.
Sexual Content
A boy smiles at Junie B. "Then Ricardo smiled at me. And so he might be my boyfriend, I think. Except for there's a boy in Room Eight who already loves me."
Violence
Grace and Lucille get into a fight. "That's when that Grace kicked Lucille in the leg. And so Lucille pushed her down. And Mrs. had to come pull them off each other."
When thinking about a boy in her class, Junie B. says, "I can beat him up, I think."
Junie B. threatens a boy that she "hate[s]" saying, "I made a big fist at him. 'HOW WOULD YOU LIKE THIS UP YOUR NOSE, YOU BIG DUMB JIM?'" She is not reprimanded even though an adult hears this exchange.
Drugs and Alcohol
When grandma is not home, "Grampa smoked a real live cigar right inside the house!"
Language
Junie B. calls things stupid frequently. When talking about her baby brother, she says, "I don't even know its stupid dumb name."
Junie B. calls things and people dumb with excessive frequency. Once, she yells, "THE PRESENT ISN'T IN THIS DUMB BUNNY ROOM." Another time, she says, "I don't think I'm going to like this dumb baby."
Junie B. uses the word hate several times. Once, she thinks, "It was the night we had stewed tomatoes—which I hate very much."
Junie B. uses darn twice. After she mistakenly thinks her mother got her a present, Junie B. says "You didn't get me a darned thing, did you?" When she realizes her baby brother is not a monkey, she says "darn it."
After Junie B. shouted "P.U.! WHAT A STINK BOMB!" to her friend's baby brother, Junie B. was told to go home.
Grace calls Junie B. a "poopy head." Another time, Grace says, "Pooey!"
Junie B. calls a classmate fat. She says, "Shush yourself, you big fat Jim."
Junie B. thinks a classmate is "a cry-baby."
Junie B. says heck once. "Only who the heck knew that dumb thing?"
Supernatural
Spiritual Content
by Morgan Lynn
---
"Then that dumb Grace shot off her big fat mouth about her shoes. And so I got marched down here. And I had to sit in the bad kid's chair." Junie B. – Junie B. Jones and a Little Monkey Business