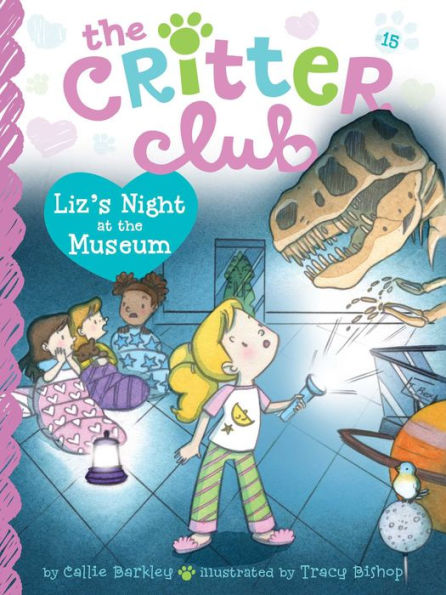 Buy This Book
---
---
Liz stared up at the T. rex and sighed. He might have some stories to tell, Liz thought. If only extinct dinosaurs could talk." –Liz's Night at the Museum
Liz's Night at the Museum
The Critter Club #15
by Callie Barkley
AR Test
At A Glance
Interest Level

5+
Entertainment
Score
Reading Level
3.2
Liz has been dreaming about sleeping over at the Santa Vista Art and History Museum. But when the lights go out, Liz hears spooky noises, and she sees scary shadows. Are the strange sounds and shadows her imagination? What's causing the noise? Will Liz's museum sleepover turn into a nightmare?
Adorable artwork appears on almost every page, which helps readers visualize the events in the story. Large type, short sentences, and plenty of dialogue will help newly independent readers stay engaged.  Fun onomatopoeias are scattered throughout the story. Although the story focuses on Liz's fear, and some of the pictures have a spooky feel, the story is more suspenseful than frightening.
Readers will be able to relate to Liz's sleepover fear. The illustrations show the character's emotions, which adds to the suspense. The fast-paced story will keep readers engaged. Several of the events are connected to each other, which helps readers understand the effect of having an active imagination. Despite being part of a series, Liz's Night at the Museum can be read as a stand-alone book.
Younger readers will enjoy the animals, the friendships, and the artwork. Liz's Night at the Museum would make an excellent addition to any reading list.
Sexual Content
Violence
Drugs and Alcohol
Language
Supernatural
Spiritual Content
---
Liz stared up at the T. rex and sighed. He might have some stories to tell, Liz thought. If only extinct dinosaurs could talk." –Liz's Night at the Museum