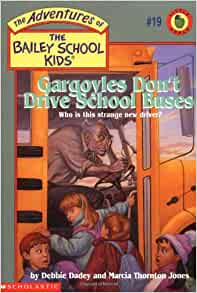 Buy This Book
---
---
"Everyone is different in his or her own special way," Liza. –Gargoyles Don't Drive School Buses
Gargoyles Don't Drive School Buses
The Adventures of the Bailey School Kids
by  Debbie Dadey & Marcia Thornton Jones 
AR Test
At A Glance
Interest Level

7+
Entertainment
Score
Reading Level
3.6
There are some pretty weird grown-ups living in Bailey City. But could the new bus driver, who looks just like a statue on top of the old library, really be a living gargoyle? Howie, Melody, Eddie, and Liza are determined to find out. As they investigate, the four friends cause havoc in the library and sneak up to the roof. Soon, they learn that the city plans to tear down the gothic-style library and replace it with a new glass and steel building.
Before the city begins demolition, some really strange things begin to happen. A mysterious person replaces an expensive stained glass window and fixes the leaky roof. No one knows who made the repairs in the middle of the night, but the kids think the gargoyles are coming to life at night to make the repairs. Will the kids be able to convince the city to save the building and the gargoyles?
Gargoyles Don't Drive School Buses will entertain mystery-loving readers. Even though the new school bus driver is a little strange, he isn't frightening. The fast-paced story never fully reveals whether or not the school bus driver is in fact a gargoyle. Instead, it leaves enough doubt that readers can make the decision on their own. As the kids investigate the library gargoyles, they decide to save the building by gathering signatures and holding a protest. The kids' peaceful protest is responsible for saving the old library and the gargoyles' home.
Howie, Melody, Eddie, and Liza are relatable characters who work together to solve the mystery. However, Eddie often makes mean comments. For example, he tells Howie, "There are legends around Bailey Elementary that you're crazy," and "your brain is one brick short of a full load." While Eddie's comments are typical of some kids, his "joking" is often mean-spirited. Another negative aspect of the story is that Eddie intentionally makes a mess in the library in order to distract the librarian. When the librarian begins cleaning up the mess, the kids sneak onto the library's roof to investigate the gargoyles.
Gargoyles Don't Drive School Buses is perfect for emerging readers who are ready for chapter books because it has easy vocabulary, short chapters, and illustrations. The large, black-and-white illustrations focus on the characters and appear every 2 to 3 pages. The illustrations will help readers understand the plot and also show the comparison between the bus driver and the gargoyles.
While parents might not like all of the kids' behavior, Gargoyles Don't Drive School Buses will entertain readers and make them excited about reading. With over 80 books in the series, readers will have lots of books to choose from. Readers who love more monster mysteries may also want to check out The Hide-and-seek Ghost by Dori Hillestad Butler and Ghost Attack by David Lubar.
Sexual Content
Violence
 Drugs and Alcohol
Language
At one point, Eddie says, "I think this plan is nothing but pigeon poo. . ."
Supernatural
The kids talk about "legends that say gargoyles can come to life at night."
Howie says, "Gargoyles are trapped in stone forever. . . unless they are forced to break the spell of stone to fight off great danger."
Spiritual Content
---
"Everyone is different in his or her own special way," Liza. –Gargoyles Don't Drive School Buses