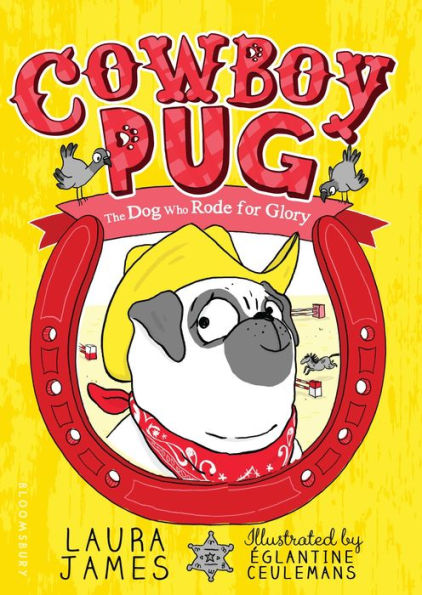 Buy This Book
---
---
"I'm not sure being a cowboy is all it's cracked up to be," Lady Miranda. –Cowboy Pug: The Dog who Rode for Glory
Cowboy Pug: The Dog Who Rode for Glory
Adventures of Pug
by Laura James
AR Test
At A Glance
Interest Level

6+
Entertainment
Score
Reading Level
4.2
Pug and his best friend, Lady Miranda, are ready for a horseback adventure. They gallop into trouble and are kidnapped by bandits. When they end up at the county fair, there's lots of cotton candy and also a rampaging bull. Will the bull ruin the county fair? Can Pug and his new friend Horsey save the day?
Lady Miranda and Pug travel to a farm where they meet Frank and Horsey. Frank shows Miranda some unsuccessful magic tricks. The clueless Frank adds to the story's humor as he causes havoc. Equally clueless are Lady Miranda's footmen who spend most of the story chasing Lady Miranda and Pug. The silly story leads the reader to the county fair where Pug and Horsey end up surprising everyone.
Cowboy Pug will draw the reader in with humorous illustrations that have splashes of red and yellow. The large illustrations and big text make Cowboy Pug accessible to confident readers. However, younger readers may find the text-heavy pages and the vocabulary difficult. Independent readers will enjoy the adventure, the slapstick comedy, the accidents Frank causes, and Pug who is reluctant to be a cowboy.
Cowboy Pug will appeal to a wide range of readers—pet lovers, adventure seekers, and those who dream of being a cowboy. The fun story will keep readers interested until the very end. Even though Cowboy Pug is part of a series, the books do not need to be read in order to be enjoyed. Readers who enjoyed Cowboy Pug should also read the Haggis and Tank Unleashed Series by Jessica Young. Younger readers who aren't ready to tackle Cowboy Pug might want to try the Mercy Watson Series by Kate DiCamillo.
Sexual Content
Violence
A boy accidentally clipped a cyclist. "The cyclist wobbled into a grocery stall, sending watermelons tumbling into the road behind them."
Drugs and Alcohol
Language
Supernatural
Spiritual Content
---
"I'm not sure being a cowboy is all it's cracked up to be," Lady Miranda. –Cowboy Pug: The Dog who Rode for Glory