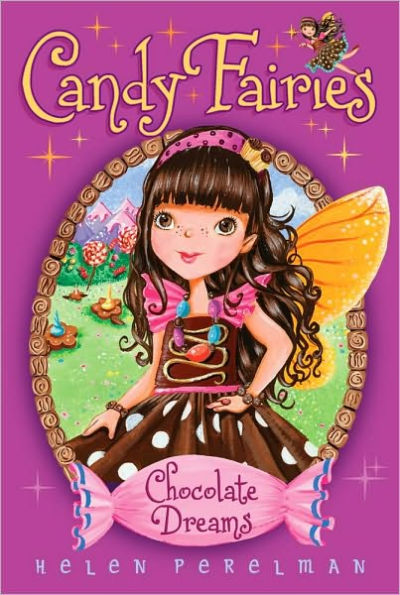 Buy This Book
Buy This Series
---
---
"You must concentrate and focus on your task. Because your magic is weaker on this side of the mountains, you need to rely on your heart," Princess Lolli. –Chocolate Dreams
Chocolate Dreams
Candy Fairies #1
by Helen Perelman 
AR Test
At A Glance
Interest Level

7+
Entertainment
Score
Reading Level
3.9
Life in Sugar Valley is deliciously fun! Cocoa the chocolate fairy is so excited. The fairy princess picked her to watch over the special chocolate eggs for the spring Egg Parade. But right before the parade, the eggs are missing from the nest!
Cocoa and her friends discover that the troll under the bridge ordered the Chuchies to bring the eggs to him. With the help of her friends, Cocoa finds the courage to tell Princess Lolli that the eggs are missing. Princess Lolli and Cocoa devise a trick to get the chocolate eggs back.
Chocolate Dreams is a super sweet story that has many candy references that readers will find cute. For example, one fairy has a "huge chocolate mess" and the troll who lives under a bridge is "a salty old troll" who lives in the Black Licorice Swamp. Readers will wish that they could visit Sugar Valley and enjoy some of the sugary snacks.
When the chocolate eggs disappear, Cocoa's desire to find the eggs provides enough suspense to keep readers entertained. The predictable villain and his minions aren't scary. His minions are "Chuchies" who are "sneaky creatures" who live in the swamp. Chuchies have "pom-pom bodies" and "short, thin legs."
Chocolate Dreams begins with a map of the Candy Kingdom. The Peppermint Grove and other elements will remind readers of the game Candy Land. Black and white illustrations appear every 2 to 3 pages and show the fairies wearing pretty dresses. Although most of the fairies look similar, one fairy is African American. The story is best suited for proficient readers who are ready for chapter books.
The fairies' friendship is super sweet and they emulate positive traits. For example, when the chocolate eggs are stolen, Cocoa's friends encourage her to tell the truth. In addition, when Cocoa is in trouble her friends "dropped everything" to help her. Chocolate Dreams takes readers into an imaginative world that will engage readers as it teaches important lessons about honesty and friendship.
Sexual Content
Violence
 Drugs and Alcohol
Language
The fairies say exclamations such as "peppermint sticks," "Holy peppermint" and "bittersweet chocolate."
Supernatural
The fairies have magic. "Chocolate Fairies had chocolate magic. They could create chocolate candy with a simple touch."
Spiritual Content
---
"You must concentrate and focus on your task. Because your magic is weaker on this side of the mountains, you need to rely on your heart," Princess Lolli. –Chocolate Dreams