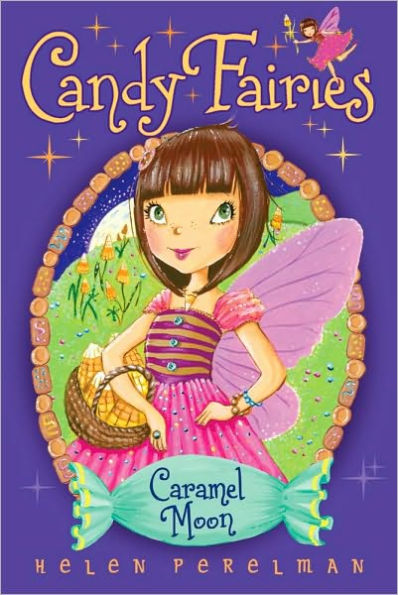 Buy This Book
Buy This Series
---
---
"While scaring someone isn't very nice, teaching them that there are consequences to stealing is an important and valuable lesson," the Fairy Princess. –Caramel Moon
Caramel Moon
Candy Fairies #3
by Helen Perelman 
AR Test
At A Glance
Interest Level

7+
Entertainment
Score
Reading Level
3.9
Melli the Caramel Fairy can't wait for the Caramel Moon Festival—the candy corn crops are picked in the moonlight and there's a big celebration. When Melli notices that there is something wrong in the fields, she needs her friends to help figure out who—or what—is trying to ruin their treats.
One of the fairies tells Melli a story about Lupa the Sugar Fairy. "She was sure that a troll was stealing her sugar fruit chews and wanted to protect her candy. Lupa caught the troll in the middle of the night and sent him back over the Frosted Mountains. She was very brave." Melli and her friends use the Lupa story to come up with a way to catch the candy stealing culprit. The story allows Melli to be brave and save the candy corn.
The third installment of the Candy Fairies Series focuses on Melli's dilemma—she must find out why the candy corn isn't growing properly. In order to trick the Chuchies, the fairies work together and come up with a plan to defeat them. Like the first two books in the series, the Chuchies are the predictable villain. This time around, the Chuchies are defeated when they eat too much candy.
Caramel Moon is a super sweet story about friendship. The fairies use candy language such as saying "sure as sugar" and "you can bet your sugar fruit chews." The story begins with a map of the Candy Kingdom. The Peppermint Grove and other elements will remind readers of the game Candy Land. Black and white illustrations appear every 2 to 3 pages, and show the fairies wearing pretty dresses. Although most of the fairies look similar, one fairy is African American. The story is best suited for proficient readers who are ready for chapter books.
The friends emulate positive traits and are always willing to help each other. Part of Caramel Moon revolves around a favorite band, Sugar Pops, coming to sing. This element gives the story a more mature tone. In the end, Melli gets permission for her sister to enjoy the Sugar Pop's show.
Even though the book is a series, readers do not have to read them in order. Caramel Moon is a sweet story that highlights the importance of asking for help and being kind to others, including your younger sisters. Young readers will enjoy spending time in Sugar Valley with the fairies. Readers looking for more fairy fun should also read Rainbow Magic: The Pet Fairies Series by Daisy Meadows.
Sexual Content
Violence
 Drugs and Alcohol
Language
"Hot caramel," "holy peppermint," "licking lollipops," and "choc-Caramel" are used as an exclamation.
Supernatural
The fairies have magical powers. For example, Melli spreads fine sugar dust over crops to help them grow quickly.
Spiritual Content
---
"While scaring someone isn't very nice, teaching them that there are consequences to stealing is an important and valuable lesson," the Fairy Princess. –Caramel Moon