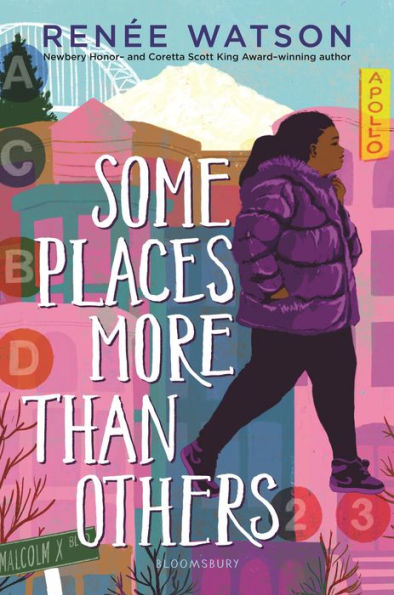 Buy This Book
---
---
"I think of my baby sister, how I want to bring her to Harlem one day, how I won't be impatient with her as she takes it all in. How I want to show her where we come from, how I'll whisper in her ear, 'You come from greatness, you come from strength,'" Amara. –Some Places More Than Others  
Some Places More Than Others
by Renée Watson
AR Test, Diverse Characters
At A Glance
Interest Level

8+
Entertainment
Score
Reading Level
4.6
For her birthday, Amara wants to visit New York City and visit her father's side of the family. She wants to meet her grandpa Earl and cousins in person. When her father has a business trip in New York, Amara is determined to get permission to go.
When Amara's teacher gives the class "The Suitcase Project," which requires Amara to look into her family's past, Amara thinks this is the perfect way to convince her parents to allow her to go to New York. As Amara looks for family keepsakes, she looks at the family Bible and learns that her grandma Grace died on her birthday. After Amara overhears a conversation, she learns that her father hasn't talked to his dad for twelve years. Amara isn't sure how the two events are connected, but she's determined to find out.
When Amara finally gets to New York City, it isn't what she imagined. As she explores the city and asks questions, Amara learns more about this place, her father, and their history. Her experience helps her see how everything in her family connects and helped make Amara the person she is.
Some Places More Than Others explores family relationships and the shared events that combine to knit a family together. As Amara explores Harlem with her family, she begins to understand the importance of honoring those who came before her—Adam Clayton Powell, Harriet Tubman, Langston Hughes, etc. While the story doesn't go into depth explaining the historical people's contribution to society, readers will feel Amara's awe and pride as she begins to understand how these people made her life possible.
Like all families, Amara's family dynamics are complicated. Though she doesn't always get along with her relatives, she knows that love binds them together. While in New York, Amara tries to help her father and grandfather put the past behind them and begin talking. The past has caused lingering pain and resentment in Amara's father. However, by the end of the book, the two men are able to forge a new relationship. By watching her family, Amara learns that "The sign of true maturity is when you're able to end the argument first, to forgive a person even if they haven't asked for it."
Middle-grade readers will relate to Amara, who is often confused and searching to find herself. She feels unloved because her mother wants her to be more girly and wear dresses. When Amara meets her cousins, their view helps Amara see how lucky she is to have a stable, two-parent household. However, Amara also struggles with her mother's pregnancy. Because her mother has had a string of miscarriages, Amara is afraid to get excited about a new baby. Through Amara's story, the reader will learn important lessons about family, forgiveness, and the people who shaped her. Even though Some Places More Than Others imparts important lessons, the lessons are integrated into the story and never feel like a lecture. While the characters are not well-developed, Some Places More Than Others would be a perfect way to introduce historical figures and the idea of exploring your family's past. Readers who enjoy realistic fiction should add Caterpillar Summer by Gillian McDunn and Listen, Slowly by Thanhhá Lai to their reading list.
Sexual Content
When in New York, Amara sees "two men are walking and holding hands."
Violence
 Drugs and Alcohol
While waiting for a subway, Amara sees a "man leaning against the green pillar in the middle of the platform holding a sign that says, 'I Ain't Gonna Lie, I Just Want a Beer.'"
Language
Supernatural
Spiritual Content
Amara's family attends a church service and they pray.
Before dinner, Amara's family prays. For example, Amara's father prays, "We thank you, God, not only for this food, but for this family. Bless us, and keep us, and please—" Amara interrupts and prays, "Let me go to New York with Dad to meet Dad's side of the family."
Several times Amara prays to her dead grandmother. For example, "I whisper a prayer to Grandma Grace, ask her to help me."
While walking in New York, Amara sees "a man not too far away speaking into a megaphone about Jesus being the white man's god."
When Amara wakes up, she says a prayer. "God, please let my baby sister be okay."
While traveling home, Amara whispers "a prayer for Mom, for my baby sister, for all of us."
---
"I think of my baby sister, how I want to bring her to Harlem one day, how I won't be impatient with her as she takes it all in. How I want to show her where we come from, how I'll whisper in her ear, 'You come from greatness, you come from strength,'" Amara. –Some Places More Than Others