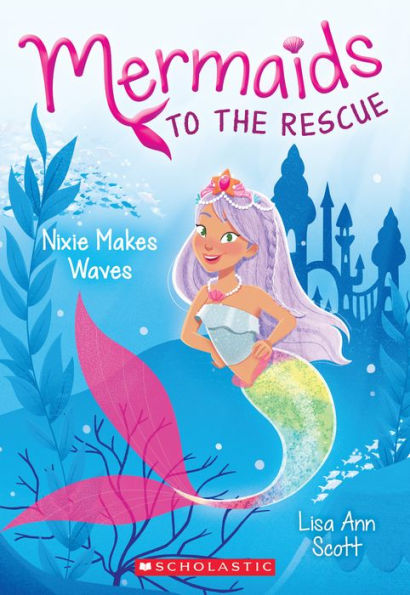 Buy This Book
Buy This Series
---
---
"A team takes two and turns out, we're a great one. With your creativity, and my complete understanding of the rules and tactics, I think we really will be the best team in the history of the Rescue Crew," Rip. –Nixie Makes Waves
Nixie Makes Waves
Mermaids To The Rescue #1
by Lisa Ann Scott
AR Test
At A Glance
Interest Level

7+
Entertainment
Score
Reading Level
4.1
Nixie is excited to join the Royal Mermaid Rescue Crew. She wants to use her natural creativity to keep the sea safe! And soon she will select her seapony partner! But Nixie is worried that she won't find a good match.
Nixie isn't happy when she is matched with Rip. Rip may be super-speedy, but he's also a brainy pony who strictly follows all rules. Nixie doesn't want to hurt Rip's feelings, but she isn't sure if she should go through with the Selection Ceremony. Once the ceremony is complete, Nixie and Rip will be partners forever.
When Nixie's friends send her a distress call, she sneaks off without Rip. She knows that Rip would try to talk her out of helping her friends. But Rip decides to follow Nixie, and in the end, he is able to help rescue Nixie's friends. Nixie and Rip finally learn to understand each other and appreciate their differences.
The mermaids and magical seaponies live in a sparkly world where princesses learn how to be part of the Royal Mermaid Rescue Crew. Like many young girls, the princesses love pretty dresses, jewelry, and each other. Nixie and Rip are not well-developed, but readers will relate to the two as they struggle to work as a team. They both want to help others, but they go about helping in vastly different ways.
Rip comes across as bossy because he loves to follow the rules. On the other hand, Nixie uses the "swishing a fix" method to creatively solve problems. When trying to solve a problem, Nixie knows she must breathe, focus, and solve. Both Rip and Nixie learn the importance of working together instead of working against each other.
Any young reader who has had to work in a group will understand Nixie's conflict. In the end, Nixie is surprised to learn that Rip is her perfect partner. The two realize that both rules and creativity are needed when solving a problem. The story's actions are illustrated with cute black-and-white pictures. The pictures help with world-building. Even though the mermaids look different on the cover—Nixie is light skin and has purple hair—in the illustrations, the mermaids look very similar.
During her adventures, Nixie finds the magical blue sea diamond that was part of the Trident of Protection. Even though a different part of the trident is found in each of the books, this part of the plot seems like an afterthought and does nothing to advance the plot.
Nixie Makes Waves will entertain those who have already transitioned to chapter books. Cute black-and-white illustrations help break up the text and appear every 3-5 pages. Although the vocabulary isn't difficult, the text-heavy pages and long sentences may be overwhelming for beginning readers. Readers may want to read Scott's Enchanted Pony Academy Series first because the stories explain the selection process and magical powers in more detail. Nixie Makes Waves will delight young readers as it teaches problem-solving techniques.
Sexual Content
Violence
Drugs and Alcohol
Language
Supernatural
Each seapony has a different Sea Savvy, such as blowing a big protection bubble, blowing stun bubbles, or conjuring whirlpools. One seapony can change "color until she blended in with the background." Another seapony can swim amazingly fast.
The school's headmaster explained how "years ago, the powerful magic of our worlds was weakened by careless spells, both in the earth kingdoms and here below the sea. During this Age of Recklessness, a deep rift formed, splitting the eastern and western waters." The storm swept away the Trident of Protection, which brought the community safety.
A seapony casts a spell to illuminate a rock. He says, "Let this rock glow, bright light please show."
Spiritual Content
---
"A team takes two and turns out, we're a great one. With your creativity, and my complete understanding of the rules and tactics, I think we really will be the best team in the history of the Rescue Crew," Rip. –Nixie Makes Waves