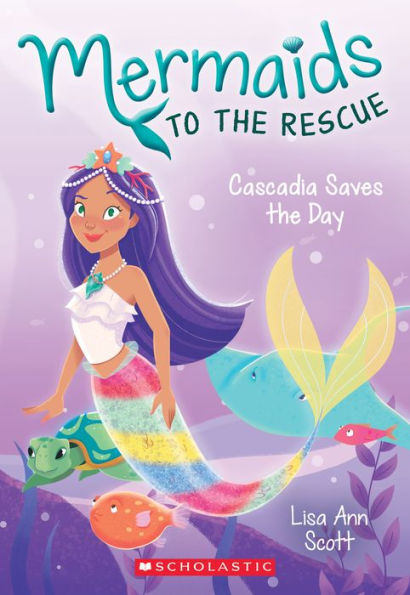 Buy This Book
Buy This Series
---
---
"I'm certain our text books would not recommend this as proper protocol in this situation," Rip. –Cascadia Saves the Day
Cascadia Saves the Day
Mermaids to The Rescue #4
by Lisa Ann Scott
AR Test
At A Glance
Interest Level

7+
Entertainment
Score
Reading Level
4.1
Princess Cascadia has been working hard preparing for the Sand Sculpture Festival. When a huge whirlpool blows through Astoria, everything is ruined. The rest of the Royal Mermaid Rescue Crew helps clean up the city, but Cascadia is convinced that she can fix the festival herself.
Cascadia tries to fix the sand sculptures. In the dark of night, someone mysterious leaves gifts—a pile of shells and a pile of sand. Some of Cascadia's friends think a sea fairy is leaving the gifts. Cascadia is curious, but she's focused on saving the festival. She discovers that the whirlpool caused more damage than the merfolk thought.
Cascadia discovers that her favorite tradition isn't the most important thing. She decides that it is more important to help a newfound friend. Several times, Cascadia "had a feeling that something wasn't right." The first time she feels this way, Cascadia ignored the feeling. But soon, she realizes that she must trust her instincts. However, Cascadia doesn't only follow her instincts, she also takes time to solve problems by breathing and focusing.
The sweet story has cute black-and-white illustrations that help break up the text. Illustrations appear every 3-5 pages. Although the vocabulary isn't difficult, the text-heavy pages and long sentences may be overwhelming for beginning readers. Cascadia Saves the Day will entertain those who have already transitioned to chapter books.
Young readers who dream of becoming a mermaid will enjoy the Mermaids to The Rescue series. Each book takes readers on an underwater adventure. During Cascadia's adventure, readers will not only learn about working as a team, but they will also learn about bioluminescence and how animals adapt. Readers who are ready to jump into another underwater adventure should add Purrmaids by Sudipta Bardhan-Quallen to their reading list.
Sexual Content
Violence
A storm goes through the merfolks' village. "All around the castle, coral and sea plants were blown about. Some shells had been stripped off the sides of the castle." One mermaid's pet snail was missing.
Drugs and Alcohol
Language
Supernatural
A seapony "conjured a few small whirlpools and swept up some of the trash."
Cascadia finds the magical trident. When the magical gems are placed on the trident, "the trident shook in her [Cascadia's] hand and started to glow. Beams of light shot out from it." Now that the trident has been put back together, it will repel evil forces.
Spiritual Content
---
"I'm certain our text books would not recommend this as proper protocol in this situation," Rip. –Cascadia Saves the Day