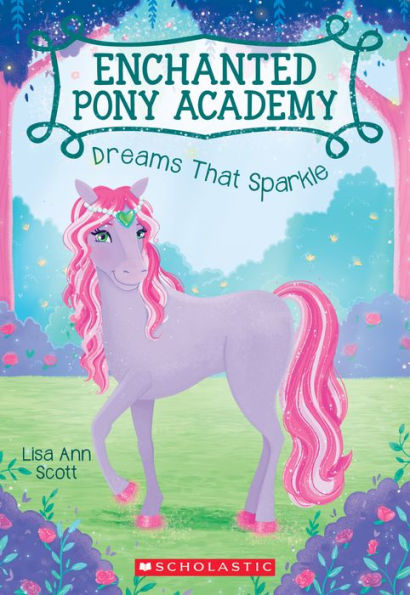 Buy This Book
---
---
"I'm sorry that I judged you without knowing you," Belissima. –Dreams That Sparkle
Dreams That Sparkle
Enchanted Pony Academy #4
by Lisa Ann Scott
AR Test
At A Glance
Interest Level

7+
Entertainment
Score
Reading Level
4.5
Belissima is the prettiest pony at the Enchanted Pony Academy — everyone says so. The problem is, no one seems to see what else Belissima is: talented and hardworking. She dreams that someday everyone will see that her magic doesn't have anything to do with her looks! When the royal children come to the Academy for the selection ceremony, Belissima is determined to show that she's not just a pretty pony. It's her last chance to prove that she can be so much more than a show pony.
Belissima is upset that people always make comments about her beauty. She wishes someone would notice that "she had the top grades in her class, or that she was a leader who always tries to be patient and pleasant with all the ponies at school." Belissima even tries to hide her beauty because she is afraid that a royal child will choose her based on her looks and not on her personality. This story teaches that ponies (and people) have many aspects that make up his/her personality.
The students use the Magic Treats and Eats Cookbook to make some magical treats, which add some humor to the story. However, the story has little action and mostly focuses on Belissima's attempts to hide her beauty. Some readers may have a hard time understanding Belissima's conflict. Although Belissima finds her perfect match in the end, the two rarely interact. Unlike the previous books, this story has less action and the message is harder to understand.
Dreams that Sparkle will entertain those who have already transitioned to chapter books. Cute black and white illustrations help break up the text and appear every three to five pages. Although the vocabulary isn't difficult, the text-heavy pages and long sentences may be overwhelming for beginning readers. Fans of the Enchanted Pony Academy books will enjoy the story. The Enchanted Pony Academy series does not need to be read in order; however, readers new to the series should begin with Let It Glow or Wings That Shine.
Sexual Content
Violence
Drugs and Alcohol
Language
Supernatural
Each pegapony has a different Glitter Gift. The Glitter Gifts include being able to become invisible, being able to talk to winged animals, teleportation, and making flowers bloom. One pegapony can even shoot sparks out of his horn.
Belissima's Glitter Gift is making her coat change color and sparkle. Later she learns that her other Gift is healing magic, which only works on her perfect match.
Several times in the story, someone levitates an object. For example, "Daisy galloped into the stable with a tray levitated by her side." Daisy's tray has posy pies on it.
Trying to make herself less beautiful, Belissima cast a spell by saying, "With these shinny shears, snip my mane shorter than my ears." When she chants the spell, "the scissors zoomed through the air, and she watched as strands of her mane fell to the barn floor around her."
Belissima casts a spell so she can see what she looks like. She says, "In front of me here, make a mirror appear." She uses the mirror and sees that her mane grew back.
Belissima cast a spell so she can write a message to a friend. She chants, "To Sunny, send this note, so she can see what I wrote." After Belissima says the spell, "the note folded itself and flew through the air, right out the door."
Daisy finds a book, Magic Treats and Eats Cookbook, and makes posy pie. When Belissima eats the treat, her breath smells like flowers for hours.
A pony makes a recipe that allows him to eat a treat and then a rainbow will appear out of his horn. When the pony does this, "a rainbow arched over the arena, and the colorful light enveloped [Belissima]" The rainbow makes Belissima's Glitter Gift ever stronger.
Belissima makes a treat that will make her less beautiful. When she eats the treat, "her soft purple coat was covered in moldy green spots. . . The moldy spots were bigger and fuzzier than she'd expected. They were darker green, too. The rainbow must have really enhanced the power of the recipe."
Headmaster Elegius can teleport through a silvery orb.
Spiritual Content
---
"I'm sorry that I judged you without knowing you," Belissima. –Dreams That Sparkle