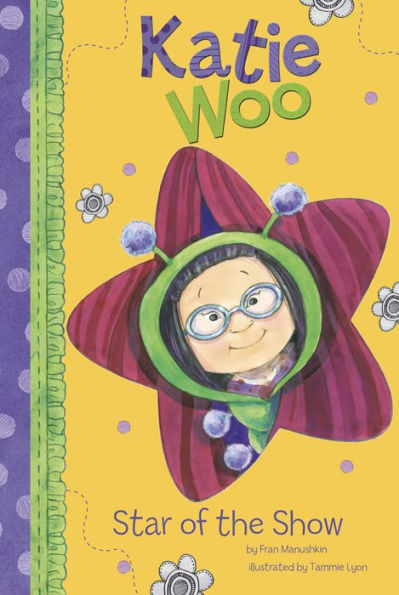 Buy This Book
---
---
"I wanted you to be the best frog you could be," Katie. –Star of the Show
Star of the Show
Katie Woo
by Fran Manushkin
AR Test, Diverse Characters
At A Glance
Interest Level

5+
Entertainment
Score
Reading Level
2.2
Katie Woo is excited when her teacher announced that the class would be performing The Princess and the Frog. She wanted to be the princess who was the star of the show. Katie's upset when she finds out she is going to be a worm. How can a worm be a star?
Any child who likes to be the center of attention will relate to Katie Woo. Katie is disappointed that she is a worm, but she tries to help her classmates be the best they can be. Even though she is a worm, Katie still practices the part and does her very best.
The book has three short chapters and is written with simple vocabulary that beginning readers will be able to master. Each page contains four or fewer sentences as well as colorful pictures, which include a diverse cast of characters. The story focuses on one vocabulary word—crafty—and uses it in a variety of ways.
Star of the Show also has a glossary, questions, and writing prompts. The story engages young readers by using interesting characters who have relatable problems. Katie Woo will help independent readers improve their skills and become confident readers. Although Star of the Show is part of a series with many of the same characters, it does not need to be read in order.
Sexual Content
Violence
Drugs and Alcohol
Language
Supernatural
Spiritual Content
---
"I wanted you to be the best frog you could be," Katie. –Star of the Show