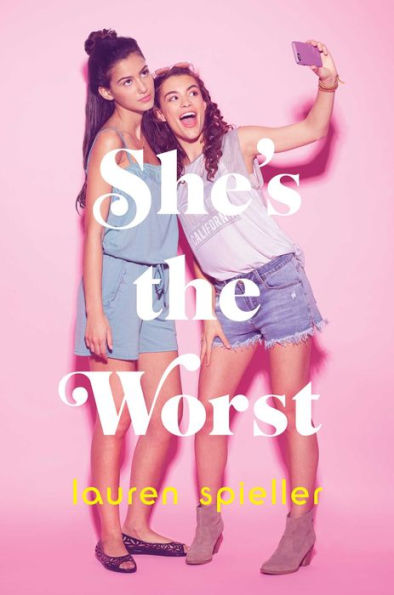 Buy This Book
---
---
"I might think my sister is a little boring, but that's nothing compared to the way my sister feels about me," April. —She's the Worst
She's The Worst
by Lauren Spieller
Strong Female Character
At A Glance
Interest Level

14+
Entertainment
Score
Reading Level
4.1
Sisters Jenn and April used to be close, but lately they've been drifting apart. Thanks to school, sports, and the looming threat of college, the two don't spend much time together. Plus, their emotionally immature, always-bickering parents have made their home an unpleasant place. But as Jenn prepares to start college, April remembers a pact she made with Jenn at the beginning of high school: before Jenn leaves town, they'll spend the whole day together, revisiting places in Los Angeles that hold special memories for them.
Despite boyfriend troubles, needy parents, and secrets keeping them apart, the girls manage to make time to embark on their journey. Through the course of the day, secrets are revealed, arguments break out, and tensions rise. High-achieving Jenn plans to leave for Stanford soon, but she hasn't told her parents, who think that she is staying in LA to work at the family antique store. Messy, sporty April thinks she can get a soccer scholarship, but doesn't know how to get her family to take her hobby seriously.
While the girls work through their issues with themselves, their parents, and their respective love interests, they discover that they haven't been communicating nearly enough. By respecting each other's differences and talking things through, they're able to address conflicts that have been bothering their family for years—and become closer as sisters. Through the course of a single day, their lives and relationships change dramatically.
She's the Worst is a light read that moves quickly through its time frame of a single day. Its fast pacing sometimes comes at the expense of emotional impact or effective description. Readers still may find themselves connecting emotionally to Jenn and April's struggles, especially when the story addresses their parents' relationship.
The family antique store has caused a rift in April and Jenn's parents' marriage, and the sisters have both coped in different ways—Jenn mediates her parents' arguments, while April spends as little time around them as possible. Readers who are familiar with such family dynamics will enjoy seeing them faithfully played out on the page. After seeing how desperately Jenn wants to get away from her parents, but how deeply they rely on her to keep the family business functioning, readers will surely root for her in her quest to leave her hometown.
She's the Worst promises a story of sisterhood, and while it delivers that story, it also delivers a story of dysfunctional families, emotionally immature parents, and the complicated relationships people have with their hometowns.
Sexual Content
April is "sleeping with" Eric, a boy from school. Eric has "snuck in [her] bedroom window a few times already," as April knows her parents would not approve.
April remembers "the way Eric kissed me last night, the way his body felt next to mine as we fell back asleep."
April says that even though she's not dating Eric, "that doesn't mean we can't hook up." When Jenn expresses concern that Eric is toying with her feelings, April says, "What are you, a nun?" Jenn says, "Does he really like you? Or does he just like having sex with you?"
Eric kisses April. April says, "It's fast but deep, like he wants to have as much of me as he can while he can, and I shiver despite the sun on my back."
April admits her feelings for her friend Nate, and they kiss. April says, "I . . . press my lips to his. He freezes for a second, as surprised as I am by what I just did. Then his lips part and he pulls me closer. The kiss deepens as his hands start to creep down my back." They are in public and don't go any further.
Later April and Nate share an intimate moment in April's bedroom. "Then he lifts me up and carries me to the bed, and it's still me and Nate, but not like always—it's totally new, and totally hot. I wrap my legs around him as the kiss deepens and intensifies, and soon I'm not thinking about anything at all. When he eventually pulls back, I feel drunk with happiness."
Violence
April jokes that if someone went to the UK and called soccer "soccer" instead of "football," they would "get jumped by a hooligan."
Drugs and Alcohol
Jenn says, "Remember when we brought up sparkling cider and pretended it was champagne?" April says, "We could probably get our hands on some real champagne. Or at least some cheap beer."
April's friend Nate brings the sisters some red wine he stole from his house.
Language
Profanity is used somewhat frequently. Profanity includes crap, ass, piss, hell, and damn.
"Fuck" is used very infrequently.
April says, "Mother. Fucker." once.
April uses the expression, "Speak of the devil."
Supernatural
April remembers using an Ouija board with Jenn once, but goes into no further detail.
Spiritual Content
April recalls wearing a new dress for a relative's neighbor's bat mitzvah.
by Caroline Galdi
---
"I might think my sister is a little boring, but that's nothing compared to the way my sister feels about me," April. —She's the Worst