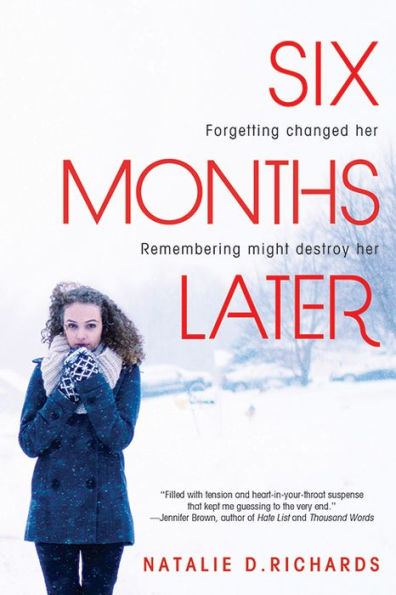 Buy This Book
---
---
"It is 10:38 on a school night, and a juvenile delinquent is preparing to sneak into my house. This is not my life," Chloe. –Six Months Later
Six Months Later
by Natalie D. Richards
AR Test
At A Glance
Interest Level

13+
Entertainment
Score
Reading Level
4.4
In May, Chloe fell asleep in study hall. When she wakes up, snow covers the ground, and she can't remember the last six months of her life. In the six months she can't remember, her life has been transformed. Before, she was a struggling student, and college was out of her reach. She also had a hopeless crush on popular jock Blake. Now, Chloe's SAT scores have given her a chance to attend a top college, and Blake is her boyfriend.
Instead of being disapproving, her mother smiles at her. Instead of hiding a crush, the boy of her dreams is in her arms. Instead of sharing her secrets with her best friend Maggie, Maggie won't even look at her. Instead of feeling thrilled when Blake wraps his arms around Chloe, she feels revolted. How can Chloe figure out what happened to her? As she looks for the truth, Chloe realizes that remembering the past comes with hidden dangers.
The mystery behind Chloe's new world will draw the reader in as they follow Chloe's attempt to discover how she changed so much in just six months. The mystery will capture readers' attention, but they will keep turning the pages because Chloe is a relatable character who struggles to understand who she is. Chloe and her mother have a turbulent relationship, and although Chloe wants to make her mother proud, she isn't sure if that is even possible. Teens will understand Chloe's parental dilemma. Even though Chloe loves her parents, her life's path cannot be carved out by them.
Six Months Later isn't just a great mystery, it also has hot romantic scenes. Now that Blake is Chloe's boyfriend, she doesn't understand why kissing him feels so wrong. And even though Chloe doesn't ever remember talking to bad boy Adam, when she looks at him she knows that there is something there. Although a love triangle isn't a new concept, Six Months Later perfectly weaves the love triangle into the mystery.
With relatable teen conflict, a unique mystery, and a peculiar love interest, Six Months Later will keep readers guessing until the very end. As Chloe unravels the past, she realizes that people's motives are often complicated and misunderstood. This book will entertain as well as teach about the importance of forgiveness. Six Months Later is a fast-paced story with likable characters that will keep readers up late into the night.
Sexual Content
When Blake picks Chloe up for school, she forces herself "to kiss him when he leans in. It's still stiff and awkward, but it will get better."
When Blake and Chloe kiss, she tips "my head, letting him catch my lips. It's soft and warm and so damn weird. I feel my shoulders tense, my hands like dead weights at the end of my arms."
Blake and Chloe kiss, but she doesn't think it feels right. Once when Blake kisses her, she thinks, "I've been kissed enough to know when someone's doing it right. And Blake is technically doing it right, tilting my head just a little. Urging my mouth to open for him. And he's pressing into me just enough to make things interesting, without mashing his kibbles and bits against my thigh or anything." When Blake kisses her, Chloe thinks about Adam. "And God, it's wrongity-wrong-wrong, but for one second, I close my eyes tight and pretend I'm with him. I think of blue eyes and a low laugh and all the things I should never think of now."
After Chloe breaks up with Blake, she kisses Adam. "His lips are soft and hard together, sending electric shocks through every inch of me. I'm heavy and trembling under his kiss, my half-frozen hands fisting in the front of his shirt, soaking in his warmth. My mouth slides open with a sign, and the kiss goes on and on. . . I can't think about a single thing outside of the feel of his arms and the taste of his mouth against mine."
Adam and Chloe kiss several times. While they are talking, Adam "leans in, kissing me once, long and soft and deep enough that I almost forget where I am."
At lunch, Adam and Chloe sit in his car. Adam "pulls me toward him on the bench seat. And then his lips are trailing along my jay wand I couldn't spell distracted if someone paid me it feels so good. We kiss until we're running dangerously close to second base during school hours."
Adam tries to get Chloe to stay away from him. When he does, she tugs "him hard by the lapels of his coat because he's so tall that going up on tiptoes isn't going to be enough. I kiss him, and at first his lips are hard and unrelenting. . . I ignore it. . . Adam's hands drop to my shoulders and then he's kissing me like he's absolutely starved for it."
Because of her memory disturbance, Chloe is afraid that she might have had sex. "My stomach does an ugly barrel roll. I take a breath and press my lips together. Could I forget something like that?"
When Chloe tells Adam that she loves him, he "pulls me in. His kiss is sweet and lingering, his hands trailing up my back and into my hair. It pushes out all of the cold and the fear of this night, leaving me warm and strong."
When Chloe's dad stands up for Adam, she thinks, "it's strange. My dad defending a boy I'm making out with on a regular basis is pretty much a portent of impending apocalypse."
Violence
When Chloe was in elementary school, Ryan teased Chloe's friend and Chloe hit Ryan in the nose. "I can still practically feel that moment; the sharp, shocking pain in my knuckles and the sickening feeling that went through me when Ryan's nose spurted blood."
Chloe finds her psychiatrist "slumped over the desk. There's a giant red-black puddle beneath her, all over the pretty desk planner."
A girl hits Adam. Chloe sees "something flying by my face and then I hear the sickening smack of flesh against flesh. Adam's jaw whips back, and I cry out as I see blood bloom on his lip."
When someone threatens to hurt Chloe's friends, she grabs a syringe and explains, "I pull the cap off and lunge. I stab the closest thing I can find and push the plunger hard and fast. . . He roars and slams his hand against my arm, batting me away. The needle still dangles from his neck when he punches at me again. This time I'm faster. I dodge left." The man is not seriously injured.
Drugs and Alcohol
Adam's grandmother is an alcoholic. When Chloe goes to Adam's apartment, she sees "the row of liquor bottles" on the back counter.
When Adam's grandmother answers the door, Chloe wonders "if the smell of booze coming off her is any indication of how she's spent her evening."
In the past, Adam broke into a pharmacy and stole drugs. Adam stole drugs for his grandmother because "she gets confused a lot. She had a period when she flushed her medicine down the toilet all of the time." The insurance wouldn't pay for more, so he stole more.
While making dinner together, Chloe's dad grabs a Samuel Adams.
As a secret study, some teens are given a drug called benzodiazepine, which causes "vivid dreams. Increased cognitive ability. Dry mouth. Excessive thirst. Sleepwalking. Headaches. Paranoid delusions. And my personal favorite—memory disturbances."
Language
Profanity is used often. Profanity includes ass, crap, bitch, damn, pissed, hell, freaking, and shit.
Fucking is used once. Adam says, "He sold it to me as my only way out of this shit-hole town and I bought it, Chloe. I bought it hook, line, and fucking sinker."
"Oh God" and "God" are frequently used as exclamations.
Chloe calls someone a "twisted bastard."
A girl asks Chloe, "Do you think only sluts wear red?"
When Chloe wakes up confused, she wonders if a boy is playing a joke on her. Then she thinks, "Blake isn't into that kind of juvenile crap. He's on the Bully Patrol, for God's sake."
When a boy questions Chloe, she thinks, "Oh my God, I'm like a freaking parrot. Words, Chloe. Find some and spit them the hell out!"
Supernatural
Spiritual Content
Chloe says "Thank God" occasionally. For example, when she wakes up confused and finds her cell phone, she thinks, "Thank God."
Chloe and Maggie have a fight and don't talk for months. Chloe goes to Maggie's house to talk and says, "I follow her out of the kitchen, praying my knees will stay strong and I will not start trembling like the nervous wreck that I am."
Chloe refers to God occasionally. For example, when Chloe is on an airplane she thinks, "I'm flying two thousand miles, hoping to God to end up right back where I started."
---
"It is 10:38 on a school night, and a juvenile delinquent is preparing to sneak into my house. This is not my life," Chloe. –Six Months Later