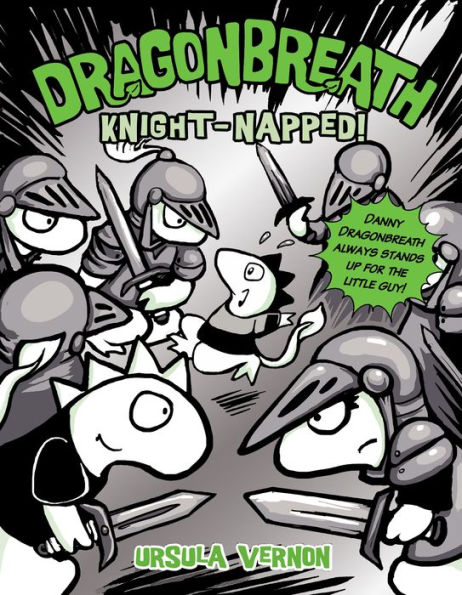 Buy This Book
---
---
"Danny Dragonbreath had enough problems. He was the only dragon in [a] school full of frogs and lizards, he couldn't breathe fire very well, and he was pretty sure that he had just flunked a pop quiz. Having a pigeon on his head was one problem too many." –Knight-Napped
Knight-Napped
Dragonbreath #10
by Ursula Vernon 
AR Test
At A Glance
Interest Level

8+
Entertainment
Score
Reading Level
4.3
A pigeon lands on Danny Dragonbreath's head and refuses to fly away. Attached to the pigeon's leg is a note from Danny's cousin, Spencer. Knights have kidnapped Spencer and they plan to slay him soon. Danny's friends Christina and Wendell reluctantly agree to help Danny free his cousin Spencer.
Christina discovers that her relatives are the ones keeping Spencer locked in the tower. But before they can all save Spencer, Danny and Wendell are imprisoned in the dungeon. Christina is upset when she finds out that her relatives "are in the habit of kidnapping little kids and imprisoning them in towers." In order to gain her family's trust and free her friends, Christina pretends to hate dragons.
Danny, Wendell, and Christina all know their mothers would be upset to learn that they took a bus to Castle Wanderpool, but they need to save Spencer. Danny tries using his fire breathing skills to break out of the dungeon, but he only succeeds in catching the dungeon on fire. When Danny is thrown into the dungeon he thinks it's "nothing compared to what his mom would do if she found out he'd been randomly breathing fire on people."
Knight-Napped is full of surprises, fake fights, and friendship drama that will have readers laughing out loud. Danny's story is told in a unique style that blends graphic novel and novel format. The text is broken up with illustrations and has several graphic novel scenes with speech balloons. The blend of text and pictures will help keep reluctant readers engaged in the story. The comic-style illustrations are mostly black and white, but they also have a pop of green.
Readers will laugh as Danny reluctantly tries to save Spencer. Danny "didn't always like Spencer, but leaving him in a castle where they stuck dragon heads on walls—no. Just no. Danny Dragonbreath had his limits. He was going to get Spencer if he had to climb up the outside of the tower by himself."
Danny, Christina, and Wendell's adventure through the castle is hilarious. Readers will appreciate how the young knights try to satisfy their grandfather's desire to have Freddy slay a dragon. Readers will relate to all of the characters—dragon, iguana, and knight—who are all afraid that their mothers will find out about their adventure. Knight-Napped is a wonderfully ridiculous, humorous story that will keep readers engaged until the very end. If you're looking for a fun book series that kids will love to read, the Dragonbreath series is perfect.
Sexual Content
Violence
Nobody actually fights, but the kids pretend to fight in order to make Freddie look brave in front of his grandfather.
Spencer and his friend Freddy pretend to fight. "Freddy managed to get on top and sat on the small dragon's chest. . . [Freddy] actually had to climb off Spencer to get to the sword. Spencer waited politely on the ground."
Christina charges at Danny. "He hit the sawdust floor of the arena and rolled. Christina swung her sword at him. She missed by a mile, but there was a nasty little whistle as the blade sliced through the air. . . Christina shook herself off, wiped ashes from her face—and charged him. Again. . . She slammed into him, shoulder first, and drove him back against the arena wall."
During the fight, Danny "flamed. He frothed. He ran at Christina waving his arms and spouting smoke. . . He flung himself at Christina, caught her sword under one arm, and threw himself to the ground, kicking wildly." The fighting is comedic. Danny and Spencer both pretend to be slain.
 Drugs and Alcohol
When Danny and Wendell go into a castle's moat, Wendell says, "I'm going to need antibiotics. This moat is nasty."
Language
One of Danny's classmates calls him dorkbreath.
As part of her master plan, Christina tries to help Danny while at the same time prove to her family that she was not friends with him. She yells at Danny. "Truly, dragons are vermin, lower than slugs, lower than flatworms! They are a vileness upon the earth! They stink!"
Christina calls dragons "scaly scum" and "foul dragon scum."
There is some name calling. Idiot is used once. Dummy and jerk are both used once.
Oh my god is used as an exclamation once.
Darn and crud are both used once.
---
"Danny Dragonbreath had enough problems. He was the only dragon in [a] school full of frogs and lizards, he couldn't breathe fire very well, and he was pretty sure that he had just flunked a pop quiz. Having a pigeon on his head was one problem too many." –Knight-Napped