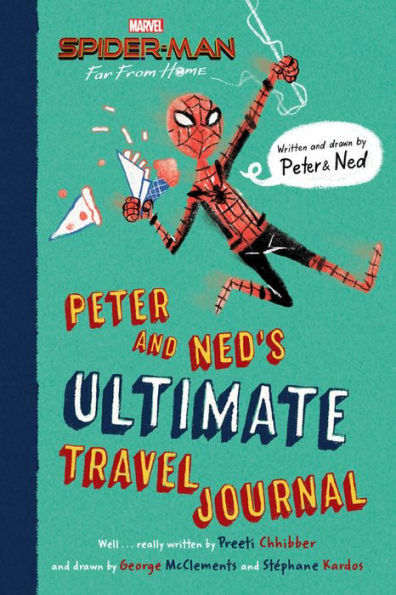 Buy This Book
---
---
"Being a kid's pretty great, though," Ned Leeds. –Peter and Ned's Ultimate Travel Journal
Spider-Man: Far from Home: Peter and Ned's Ultimate Travel Journal
by Preeti Chhibber, George McClements, & Stéphane Kardos
Graphic Novel, Teaches About Culture
At A Glance
Interest Level

8+
Entertainment
Score
Reading Level
3.5
Spider-Man is off to Europe on a science exploration, crime-fighting adventure! While on vacation, Peter Parker and his best friend, Ned Leeds, decide to create a travel journal where they jot down all the exciting things that happened to them during their trip. From St. Mark's Basilica in Venice to the Globe Theatre in London, Ned tells readers about the most astounding and historic spots to visit in Europe. While web-slinging, Peter introduces readers to European street food, including German pretzels and English toasties. Mary Jane introduces Europe's most notable, historic women to the boys as she takes them to the weirdest and scariest places in Europe, including Cemetery Island in Venice and the Museum of Communism in Prague. The ultimate, web-shooting travel journal really has it all!
From the Venetian gelato to the London Eye, their international trip seems to be going great until Peter finds himself having to save the world again. As he fights world-threatening monsters, Peter struggles with becoming a big-time superhero and his new crush on his friend, Mary Jane. It's a big step up from being just the friendly, neighborhood Spider-Man. Will Peter be able to come to terms with his new identity, defeat the monsters, and finish the journal—or will the world fall into chaos?
 Peter and Ned's Ultimate Travel Journal is a fun, educational read for young readers. Peter, Ned, and Mary Jane's adventures across Europe, along with their witty humor, make the book fun to read. It introduces young readers to Europe's many different, historic cultures. Throughout the book, Ned introduces historical buildings to the readers, Peter introduces cultural food, and MJ introduces historic European women. Along the way, the trio even has intellectual debates discussing if Italian pizza is better than American pizza, if Nikola Tesla is smarter than Thomas Edison, and if Michelangelo is more influential than Leonardo Da Vinci.
However, readers should watch the movie Spider-Man: Far from Home before reading the travel journal. The journal makes many references to the crime-fighting antics of Spiderman's on-screen personality, and the journal could be confusing for readers who have not seen the movie. The camaraderie between Peter, Ned, and MJ is entertaining; however, the characters often go way overboard on teen-talk. Even though the plot is not well-developed, the theme of friendship is portrayed throughout the journal.
Nonetheless, the fun, colorful illustrations will interest readers. The artwork appears much like the Spider-Man comic books with colorful pictures of Spider-Man in action and cartoonish pictures of European landmarks. However, some of the pictures are reused, which may bother some readers. With its mild language, this book is a fun read for superhero fans that are interested in learning about other countries.
Sexual Content
Violence
On the plane, Mr. Hutchinson tells Peter that "his ex-wife faked her own death in the Battle of New York …"
Ned thinks he is a great friend because "he will take a tranquilizer dart to the neck courtesy of NICHOLAS FURY and not complain about it." In the movie, Ned is shot in the neck by Nick Fury.
Drugs and Alcohol
Language
Ned's "No Lips" face will make Peter "laugh so hard he pees his pants."
While in St. Mark's Square, "a pigeon pooped on" Peter.
Ned thinks that "Betty is going to think I'm so smart when I tell her about these kick-butt ladies tomorrow!"
Ned thinks it's funny to "imagine a baby country peeing in a diaper."
Peter wants to snuggle with Mary Jane during the opera while they share opera glasses, but he wonders if there's "another word for snuggle so I can just ask her without sounding like a dweeb?"
Supernatural
Spiritual Content
by Matthew Perkey
---
"Being a kid's pretty great, though," Ned Leeds. –Peter and Ned's Ultimate Travel Journal