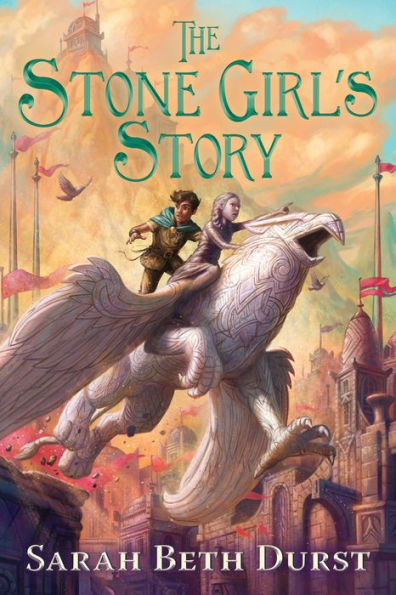 Buy This Book
---
---
"I thought any girl who'd befriended a dragon had to be worth knowing," Ilery. —The Stone Girl's Story
The Stone Girl's Story
by Sarah Beth Durst
AR Test, Strong Female Character
At A Glance
Interest Level

10+
Entertainment
Score
Reading Level
4.8
Mayka and her stone family have always lived on the mountain. Their father, a stonemason, brought them to life by etching stories onto their bodies. But now that her father is gone, the markings are beginning to fade. Mayka and her two bird friends go in search of a stonemason to recarve the stories.  As she searches, she learns about the complicated history of stone creations. She also must learn which flesh-people can be trusted—because not all humans are good.
Filled with unique, engaging characters—both stone and flesh—The Stone Girl's Story explores the importance of making your own decisions and writing your own story. With the power of friendship, Mayka helps other stone creations change their stories, and, in the process, they defeat evil. Through her journey, Mayka shows the importance of words; although she lies, she does so for good reason. She also learns the importance of being brave and how to become the heroine in her own story.
Beautiful descriptions bring The Stone Girl's Story to life. Mayka retells many stories, which makes some of the action less interesting. Although the ending of the story is action-packed and suspenseful, some readers may have a hard time wading through the first half of the book. However, getting to the end of the book is worth the work because of the lessons learned, the exciting climax, and the hopeful resolution.
Sexual Content
Violence
Mayka comes to a stone wall that was created to protect what lies on the other side of it. When Mayka's bird friend touches the wall, rocks rolled round his feet. The rocks "rolled together to pin him to the wall. As she dug, the rocks rolled against her too, trying to trap her fingers with the bird."
A stonemason creates a huge stone monster who attacks the city, trying to capture Mayka and her friends. "The monster kicked away the guards, and they sprawled against the building, knocking over fleeing people and capsizing pedestals. The monster charged forward. Each step slammed into the ground and caused the buildings to sway. Tile fell off roofs. Chimneys toppled." Mayka's friends attack the monster to distract him while Mayka carves a new story onto his body. The monster then grabs the stonemason that built him and leaves the city, never to return.
Drugs and Alcohol
Language
Supernatural
According to the old legends, great dragons created all flesh-and-blood life.
Stonemasons can carve creatures out of stone and bring them to life. Most creatures are everyday animals such as horses, oxen, or otters, which are used for labor.
Spiritual Content
---
"I thought any girl who'd befriended a dragon had to be worth knowing," Ilery. —The Stone Girl's Story