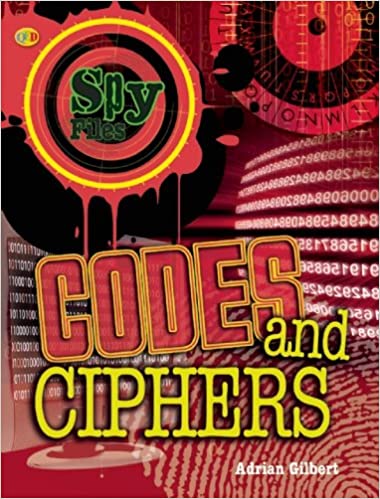 Buy This Book
---
---
"The [Navajo] code talkers took just 20 seconds to code and send a short message. It would have taken a normal coding machine 30 minutes to do the same job. The Japanese were completely bewildered by the code talkers and never managed to break the code."

– Spy Files: Codes and Ciphers
Spy Files: Codes and Ciphers
by Adrian Gilbert
AR Test
At A Glance
Interest Level

8+
Entertainment
Score
Reading Level
6.8
Sneak into the secret lives of spies with this fascinating series about the world's security services—with agent profiles, information on technology, and events that changed the world. Codes and Ciphers is packed full of interesting information beginning with the difference between a code and cipher, and how they were first developed.  
Codes and Ciphers uses a fun format that breaks up information into small, manageable parts. Each two-page spread changes topics and each page has only one to three short paragraphs plus photo captions. Each page has illustrations including historical photos, drawings, and illustrations of spy technology. Plus, some pages have an infographic titled "Top Secret" which gives additional information on spying. While the format will appeal to many readers, the large font and short paragraphs don't allow each topic to be explored in detail. Readers who want to learn more in-depth information about codes and ciphers should check out Top Secret by Paul B. Janeczko. 
The wide range of spy information, which includes a lot of historical stories such as information on the World War II Navajo Code Talkers, is extremely interesting. Plus, readers will learn how to make their own codes, ciphers, and invisible ink. The book ends with a two-page glossary and an index. Codes and Ciphers will entertain readers and introduce many interesting facts. Spy-loving readers who want to add a little spy humor to their reading should sneak to the library and search for the Mac B. Kid Spy Series by Mac Barnett. 
Sexual Content  
Violence  
Drugs and Alcohol  
Language    
Supernatural 
Spiritual Content  
---
"The [Navajo] code talkers took just 20 seconds to code and send a short message. It would have taken a normal coding machine 30 minutes to do the same job. The Japanese were completely bewildered by the code talkers and never managed to break the code."

– Spy Files: Codes and Ciphers